News
'Secrets of Summer' Returns for Second Season on Netflix
'Secrets of Summer' Returns for Second Season on Netflix
Netflix is back with the second season of Secrets of Summer months after launching the first installment. Secrets of Summer is a musical, romance, and mystery TV show created by Jorge Edelstein. 
The first season premiered on Netflix in February 2022 with eleven episodes that performed incredibly with 6.1/10 stars on IMDb. Netflix renewed Secrets of Summer for a second season and gave it a December 2022 premiere date.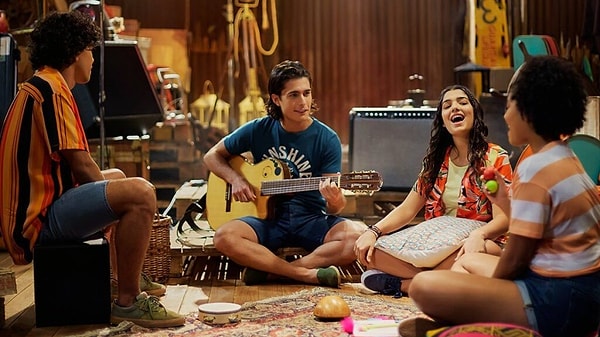 What's 'Secrets of Summer' Season Two About?
Secrets of Summer chronicles the story of a squad of teenagers working to save an old hotel located at the center of the Argentine Delta. Besides preserving the hotel, the show also focuses on Steffi, a Mexican wakeboarder who travels to the Argentine hotel to participate in the annual wakeboarding competition. 
During the competition, Steffi also strives to solve a significant family mystery that has been kept a secret for years. Secrets of Summer sees Steffi on a mission to discover the truth while creating remarkable memories with her friends. The upcoming season will resume with teenage relationships, summer vibes, partying, and more.
'Secrets of Summer' Season Two Trailer?
It's a tradition for any streaming platform to provide trailers for an upcoming show before it premieres. 
Netflix Latino América recently uploaded the official trailer to offer a visual description of the forthcoming Secrets of Summer season two.
'Secrets of Summer' Producers?
Secrets of Summer is created by Jorge Eldestein, alongside Mauro Scandolari as the director. 
The show is written by Eldestein, Clara Charrúa, Paula Velayos, and Celeste Lambert, with Pablo Ferreiro as the chief producer.
Non Stop is the Production Company behind the show's success.
Who Casts 'Secrets of Summer' Season Two?
Season two of Secrets of Summer stars Pilar Pascual playing Stefania Navarro, a.k.a Steffi, Abril Di Yorio as Luz Aguilla, Guido Messina as Julián, Luan Brum as Carlos Santos a.k.a Charlie, Thaís Rippel as Natalia a.k.a Naty, Víctor Varona as Antonia a.k.a Tony, Giulia Guerrini as Natasha Rossi and Francisco Bass as Ron Navarro Lavalle. Pasquale Di Nuzzo was added to the upcoming season as a guest character, Oliver.
When Will 'Secrets of Summer' Season Two Launch?
Season two of Secrets of Summer will premiere on Netflix on Friday, December 30, 2022, with a range of 10 to 12 episodes like its pacesetter.
Scroll Down for Comments and Reactions