News
'Sausage Party Foodtopia': Spin-Off Series in the Works for a Prime Video Release
'Sausage Party Foodtopia': Spin-Off Series in the Works for a Prime Video Release
Seth Rogen and Evan Goldberg's raunchy insinuate adult animated film Sausage Party is getting a spin-off series. The duo, who co-wrote and co-produced the 2016 movie, are back again to craft the spin-off.
What We Know About the Spin-Off So Far?
Prime Video has ordered an eight-episode spin-off series titled Sausage Party: Foodtopia. With everything kept under the radar, for now, the only thing we know is that the spin-off is in its pre-production stage and is scheduled to head to the streaming platform in 2024.
The film's original voice cast is said to reprise their roles. They include Seth Rogen as the lead sausage Frank, Kristen Wiig as Brenda, a hot dog bun and Frank's crush, Michael Cera as the deformed sausage Barry and Frank's friend, Edward Norton as the Jewish bagel Sammy Bagel Jr., David Krumholtz as a Middle Eastern Lavash, Kareem Abdul Lavash and Salma Hayek as a Mexican lesbian Taco, Teresa del Taco. 
Sausage Party (2016) featured an all-star stellar voice cast including also Bill Hader, Craig Robinson, James Franco, Nick Kroll, Scott Diggs Underwood, Jonah Hill, Anders Holm, Paul Rudd and Danny McBride. 
The spin-off series' new recruits include Yassir Lester, Natasha Rothwell, Will Forte and Sam Richardson.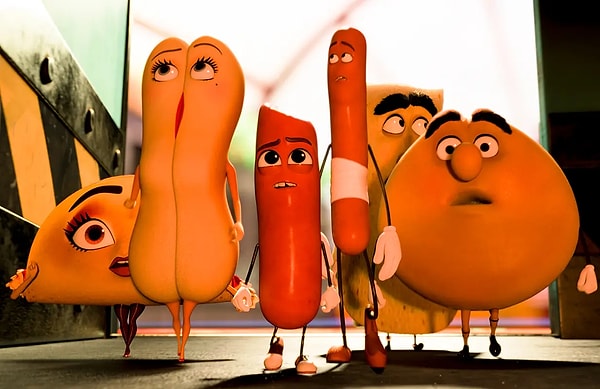 From the Creators' Desk
Rogen and Goldberg couldn't hold back their exhilaration for the spin-off adult-animated series. They said in their statement, 'Film was once the superior form of art to TV, and we honorably reached the epitome of what can be attained with our remarkable opus, Sausage Party. Now that TV is the king of entertainment, we've decided to embark again on the epic adventures of our culinary crew in the soon-to-be-legendary televised masterpiece Sausage Party: Foodtopia. It promises double the puns and triple the food-on-food sex. It's exactly what the world needs right now.'
The head of global television at Amazon Studios, Vernon Sanders, also chipped in his praise for the series development. In his statement, he praised the adult comedy's distinctness and added that the same spirit of the film will be brought to the televised version.
"Sausage Party was an outrageously hilarious unique entry to the animation world. We are happy to work again with Seth, Evan and their team at Point Grey, not forgetting our partners at Annapurna Television and Sony Pictures Television to provide a fresh look into this world that will be vividly brought to life for our global Prime Video clients," Sanders stated.
When Will 'Sausage Party: Foodtopia' Be Released?
The eight-episode animation series will be released on Prime Video in 2024.
Scroll Down for Comments and Reactions