News
Prime Video Introduces 'Anchorman 2: The Legend Continues' (2013) to its Movie Listing
Prime Video Introduces 'Anchorman 2: The Legend Continues' (2013) to its Movie Listing
Almost a decade after the debut of one of the funniest comedy films ever came its sequel, Anchorman 2: The Legend Continues, in 2013, proving to be just as successful as Anchorman: The Legend of Ron Burgundy (2004). 
Prime Video introduced the comedy film to its catalog on Sunday, June 5, in case you missed it, you could slot it in your watch list this week.
The Story Continues
Featuring a wide array of memorable casts, The Legend Continues still follows the lead news anchor Ron Burgundy (Will Ferrell) and his news anchor crew comprising Brian Fantana (Paul Rudd) and Brick Tamland (Steve Carrell), Champ Kind (David Koechner). 
Married to Veronica Corningstone (Christina Applegate) and with a young son Walter Burgundy (Judah Nelson), Ron finds himself overshadowed by his brilliant con-news anchor wife. After getting a pink slip from network boss Mack Tannen (Harrison Ford) and separating from Veronica, Ron finds himself at the bottom again. 
But coming in the nick of time, Freddie Sahapp (Dylan Baker) wants to hire Ron for an all-news broadcast channel. Ron then recruits his old buddies and news team for the new job. 
The Legend Continues touches on friendship, life priorities, relationships, and of course, dark humor, sarcasm and a touch of slapstick comedy.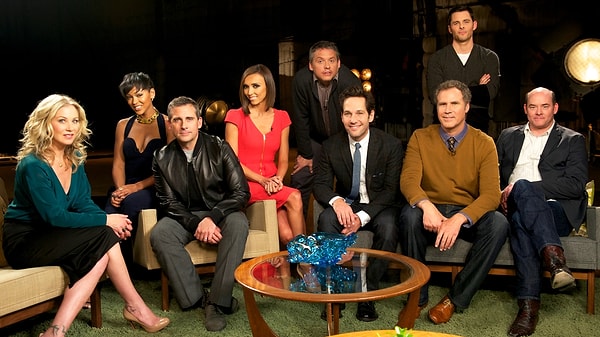 Cast Members
Almost every famous Hollywood star features in this film. Besides those already mentioned, other bug names include Meagan Good, James Marsden, Greg Kinnear, Kristen Wiig, Josh Lawson, Vince Vaughn, Chris Parnell, Fred Willard, Tom Clark, June Diane Raphael and Eliza Coupe. 
Let's not forget the humongous all-star cameo cast, including Drake, Jim Carrey, Will Smith, Kanye West, Sacha Cohen, Kirsten Dunst, Marion Cotillard, Dan Triandiflou, Judd Apatow, Amy Poehler, Tina Fey and Matt Cornwell.
I don't know about you, but I'll be watching this hilarious film tonight for the umpteenth time.
Scroll Down for Comments and Reactions