News
Netflix Airs 'The Upshaws' Season 2 Part 2 This February
Netflix Airs 'The Upshaws' Season 2 Part 2 This February
Does Lucretia Turner know how much fans have missed her? At least they will watch her again in the second part of The Upshaws season two. The Upshaws is an American situation comedy series ordered by Netflix in August 2019, landing on the streamer in May 2021. 
The streaming platform later renewed The Upshaws for the second season, which was set to launch in two parts. The first eight-episode part debuted in June 2022, revealing that the second would land in February 2023.
Netflix renewed the series for the third part in October 2022 after receiving 6.9/10 stars on IMDb, a 73% audience score on Rotten Tomatoes, 3/5 stars on Common Sense Media, and 4/5 stars on JustWatch.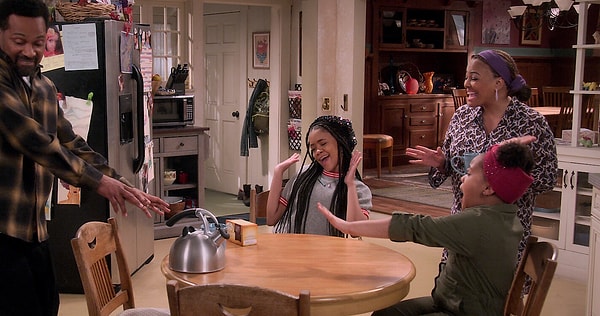 What's the Storyline for 'The Upshaws' Season Two: Part Two?
The Upshaws follows a Black family in Indiana, United States, striving to make life better while navigating the ups and downs of living in America. 
The situation comedy has seen the family members in several problems, some landing them behind bars. The Upshaws part three is said to have the family finding new loves, rekindling old issues, achieving their dreams, engaging in more dramas, and other significant life changes.
Has Netflix Shared the Trailer for 'The Upshaws' Season Two: Part Two?
Yes! Netflix uploaded the official trailer for The Upshaws season two: Part two roughly six days ago on its leading YouTube Channel. 
In 2 minutes and 17 seconds, the trailer glimpses at Bennie and Lucretia in jail, but that doesn't stop them from breaking ribs. 
Evidently, the upcoming part has a lot of comedies in store for the fans.
Who are the Creators of 'The Upshaws'?
The Upshaws is created by Wanda Sykes and Regina Y. Hicks, who also serve as chief producers alongside Niles Kirchner, Mike Epps, and Page Hurwitz. 
The show is a co-accomplishment of Naptown Productions, Push It Productions, and Savannah Sweet Productions for Netflix.
Who Portrays Who in 'The Upshaws' Season Two: Part Two?
The upcoming part brings back several talents from its pacesetter, including Wanda Sykes (Lucretia Turner), Mike Epps (Bennie), Kim Fields (Regina Upshaw), Khali Spraggins (Aaliyah), Journey Christine (Maya), Diamond Lyons (Kelvin), Page Kennedy (Duck), Jermelle Simon (Bernard), and Gabrielle Dennis (Tasha).
When is 'The Upshaws' Season Two: Part Two Coming Out?
The second part of The Upshaws season two, otherwise known as Part Three will debut on Thursday, February 16, with eight episodes. 
Netflix shared the premiere date via its main Twitter account, accompanied by a 2-minute trailer.
Scroll Down for Comments and Reactions