News
Natalia Dyer & Charlie Heaton Relationship Timeline
Natalia Dyer & Charlie Heaton Relationship Timeline
The relationship of Natalie Dyer and Charlie Heaton started when they played a character in the timeline of 1984 Hawkins. The show Stranger Things became the way for the characters Nancy Wheeler and Jonathan Byers, the pair of a formidable boyfriend-girlfriend duo to have a developed romance in real life.
There are rumors saying that their romance started in early September. But a little more than a year later, a confirmation was made for their romance through a simple act of public display of affection. Due to this course of action, they are often seen together and regularly on red carpets and Instagram showing their lovely photos in their cute poses. Also, on the later part of the season of Stranger Things, their relationship has progressed:
September 9, 2016
Charlie Heaton posted a picture on Instagram calling Natalie Dyer one of his "amigos" as they took a trip to the island of Menorca, along the coast of Spain.
September 14, 2016
Fans began to question whether there was more to Dyer and Heaton's friendship when she posted a photo of Heaton to her Instagram account.
On a sunny afternoon, the photo captures Heaton holding aloft three birds, one on each of his head, shoulder, and arm. A few days after Dyer made her debut on Heaton's Instagram, the actor returned the favor by appearing in one of Dyer's posts.
October 29, 2016
For Halloween in 2016, Dyer and Heaton dressed as the Cowardly Lion and the Scarecrow from The Wizard of Oz, respectively, with two pals.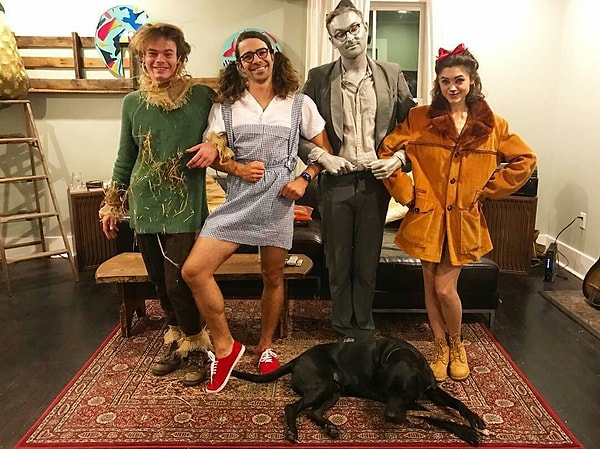 January 2017
More rumors were made just right after the two were seen to leave the Los Angeles International airport together after attending the 74th Golden Globe Awards since Stranger Things was nominated for the best television series drama.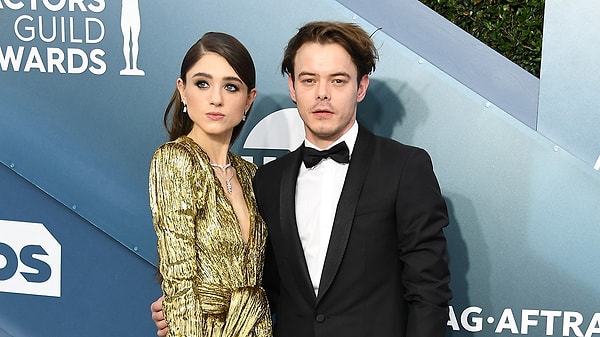 March 2017
Rumors have started to grow and the couple chose to deflect them. Dyer chose to give a general answer as to what they truly are.
October 2017
Walking hand-in-hand are what Dyer and Heaton are caught doing down the street of New York City.
November 2017
The cast of Stranger Things did a press in Paris and the pair made sure to tour the city. Enjoying the day together doing a couple things as well as window shopping. During their time in London, a paparazzi caught the couple kissing in public, in the middle of the street.
December 2017
The 2017 Fashion Awards held in London is where the couple made their confirmation of their relationship by hitting the red carpet together. Heaton wore a beautiful satin canary yellow bomber jacket wguke Dyer chose a stunning burgundy dress with stars embossed on it that is made by Coach.
January 2018
An Instagram post was made by Heaton greeting Dyer for her 21st birthday. They were also spotted on the festival grounds of the after party of Desert Nights in Palm Springs.
September 2018
The couple attended the Emmy Awards together with Dyer wearing a stunning gold embroidered Dolce and Gabbana gown while Heaton looked dashing in a classic tuxedo.
January 2019
In an interview, Dyer told the press what he loved the most about his boyfriend, "He's alright I guess. He doesn't mess up our scenes too much!" she joked. "No, he's great. He's talented, like everybody in the cast. They're all super, just great to work with."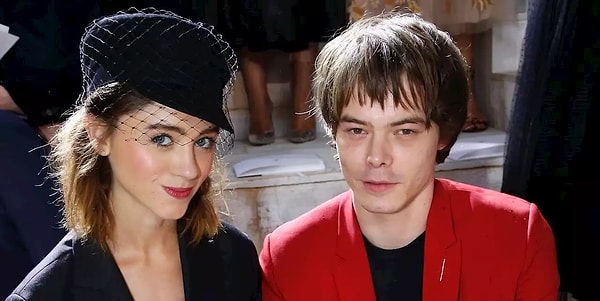 February 2019
Heaton opened up in a magazine cover story for V Man stating that it's nice to have a partner like Dyers who's going through the same obstacles as he is career-wise.
April to June 2019
Another event was attended by the couple in Paris: the Clash de Cartier party where Heaton sported a dapper suit, while Dyer chose a blue chiffon gown reminiscent of Cinderella with embroidered straps.
July 2019
Dyer told the press that she wants to keep her love life and personal relationships private since it is something that is important to her. 
It is also the time where the couple took some break and time off from the set of Stranger Things Season 4 for a vacation in Italy.
September 2019
As the lovely couple that they are, they attended a series of events: Thom Browne show during New York Fashion Week, and two separate Dior events during Paris Fashion Week.
January 2020
Heaton celebrates Dyer's birthday on Instagram captioned with a birthday emoji cake.
February 2020
Heaton was asked of the nature of their relationship and he plainly said, "We didn't really know what the relationship was," but according to the show's co-creator Matt Duffer, the attraction between the two is uncanny.
December 2021
After many months of being quiet, the couple attended the Dior Homme catwalk after-party together held in London. Rumors have grew since this is a rare public appearance after the couple decided to stay private about their relationship.
May 2022
Dyer seems to think that people's interest in their relationship is a bit strange and cliche. According to her, "We were colleagues first," she explained. "It's a standard, natural thing that would've happened either way. We work on the same show – naturally we would do interviews together and things like that. The weirdest thing about [our relationship] is other people's perception and reaction to it. Everything else just feels very human."
Even if the horror comes from the Upside-Down, it is true that you can find love in Hawkins, Indiana. After Stranger Things debuted in July 2016, Charlie Heaton and Natalia Dyer moved their romance from the screen to the real world. The chemistry is uncanny and the love between the two can be felt by their fans.
Scroll Down for Comments and Reactions