News
NASA's James Webb Telescope Captures Breathtaking Image Of 'Pillars Of Creation'
NASA's James Webb Telescope Captures Breathtaking Image Of 'Pillars Of Creation'
The James Webb telescope has just captured a highly detailed image of the spectacular Pillars of Creation, revealing tons of newly born stars shining within the cosmic dust clouds.
The new image of the Pillars of Creation, captured by NASA's Hubble Space Telescope in 1995, will assist the researcher revise their concepts of star formation by attempting to identify more precise numbers of newborn stars, as well as the amounts of gas and space dust in the area. Over millennia, they would gradually gain a better understanding of how these stars form and erupt from these cosmic clouds.
'While Hubble's Pillars are dark and menacing, rising against a cloudy backdrop of a rather empty universe, Webb's appear softer, more finely structured, with bright red 'lava flows' framing the edges of some of the clouds; these 'lava flows' are, in fact, material ejected by the forming stars,' said the European Space Agency (ESA), which collaborates with NASA on the James Webb Space Telescope project.
'Young stars periodically shoot out supersonic jets that collide with clouds of material, like these thick pillars,' they wrote. 'This sometimes also results in bow shocks, which can form wavy patterns like a boat does as it moves through water. The crimson glow comes from the energetic hydrogen molecules that result from jets and shocks.'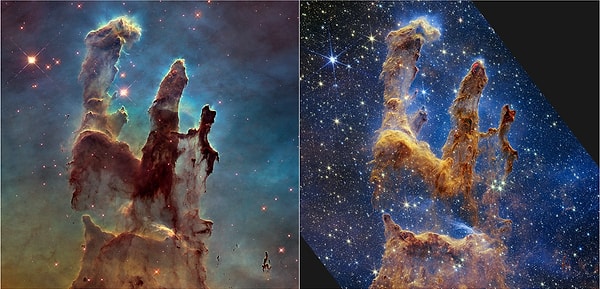 In the photo captured from Webb's NIRCam, the newborn stars are the main focus. These are bright scarlet-red orbs with diffraction spikes which are usually found outside of one of the pillars. When enough knots shape inside the pillars of dust and gas, they start to crumble beneath their own gravitational field, steadily heating up, and start forming new stars.
Even though it appears that the Webb telescope was able to penetrate the clouds to unveil vast cosmic lengths far beyond the pillars, this view contains no galaxies whatsoever. Rather, the interstellar channel, a combination of translucent dust and gas in the densest area of the Milky Way's circle, obscures our perspective of the deeper universe.
The Hubble telescope captured this scenario way back in 1995 and replayed this in 2014, but several other space observatories also had focused their attention on this area. Each of these highly developed devices provide researchers with new knowledge about this star-studded region.
Scroll Down for Comments and Reactions