Nas and Hit-Boy Announce Release Date for 'King's Disease III'
News
>
Nas and Hit-Boy Announce Release Date for 'King's Disease III'
Nas and Hit-Boy are due to release the 'King's Disease 3,' album this November the 11th, according to new announcements form the duo.
Each artist uploaded a post to Instagram to announce the new project's release date.
Hit-Boy, originally from Fontana, California, wrote 'KDIII 11-11,' on the social media platform.
Nas, of East Coast fame, simply posted, '11-11,' alongside an image of the upcoming album's cover art.
The art features three gold bars lying on a pleasant red background. Each gold bar is engraved with 'KD3.'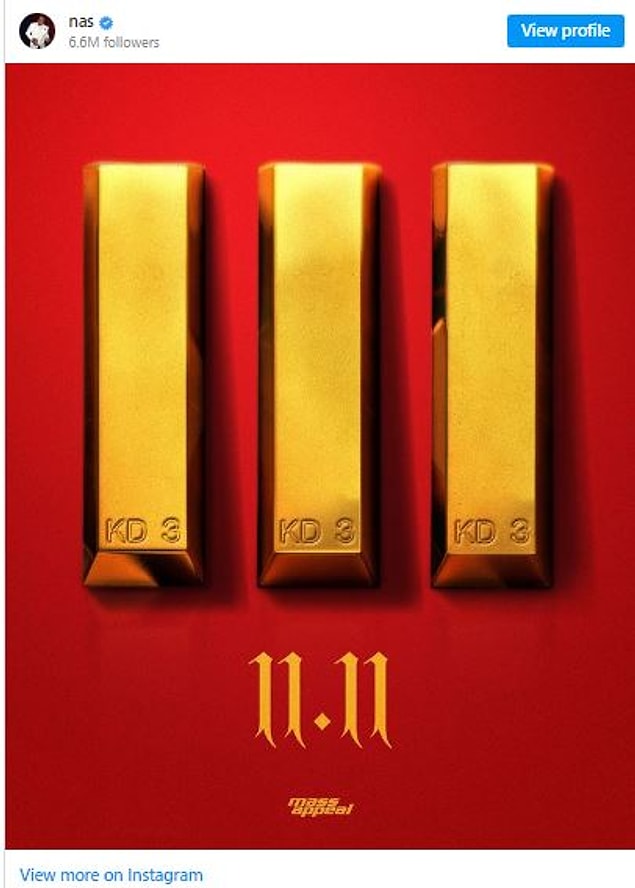 This album marks the duo's fourth album collaboration, having been awarded a Grammy for some of their previous work.
The pair first worked together in 2020, teaming up for the first 'King's Disease,' project which brought much success.
The second King's Disease album followed in 2021. though it was not to be the artists' only drop that year.
The duo also released the album 'Magic,' later in 2021, to the surprise of many fans. It was seen mainly as a warm up for the third KD album.
The pair's productivity has nevertheless been a show of how successful the the producer and rapper are when co-operating together in the studio.
The song 'Ugly,' off of their third album confirmed to listeners that the third 'King's Disease,' album was on its way.
"I'm on offense every day until I see the love / KD3 on the way, this just to feed the buzz," Nas rhymed on that cut.
Nas -Ugly (Official Video)
The duo's first and second KD albums were nominated for Best Rap Album at the Grammy awards, with the initial project actually bringing home the prize.
Last year, Hit-Boy told 'Complex Magazine' about the chemistry between the pair in a joint interview.
"I feel like every song we make, without even consciously doing it, we're trying to make it better than the last. It's just already embedded in us to do that," Hit-Boy said.
"I feel like as long as we keep taking that approach, it's going to get crazier and crazier, and that's what happened,' the producer stated.
I keep seeing every day like, "Damn, how would y'all top KD 1 that y'all won a Grammy for? This is even better," he added, 'That's a good feeling, and it lets me know that the chemistry is legit."
With many artists from the hip hop world withdrawing their music from possibly being nominated for awards at the upcoming Grammys in 2023, Nas and hit boy may feel they have a good chance of securing a second musical honour together.
On previous form, the pair will be right in the mix regardless of who allows their music to be entered.