News
Migos' Takeoff Shot Dead at Houston Bowling Alley
Migos' Takeoff Shot Dead at Houston Bowling Alley
The rapper, Takeoff, has died after being shot early this morning in the city of Houston, according to reports.
The artists, who made up one third of the group Migos, alongside Quavo and Offset, is reported to have been shot around 2.30am near a bowling alley in Houston.
According to TMZ, law enforcement and several witnesses to the fatal incident, the shooting went down at that time at a bowling alley named 810 Billiards and Bowling Houston.
Takeoff is reported to have been playing a game of dice alongside his musical partner Quavo at the venue when an altercation took place.
Reports say that one of the people present at the game took out a gun and opened fire.
Takeoff was shot, in the head or near the head according to witnesses, and he was later pronounced to be dead at the scene.
Graphic footage from the scene shows Quavo, who is Takeoff's uncle, and others gather around the 28-year-old on the ground.
The appear to attempt to move the man but eventually place him back on the ground and Quavo shouts at a witness to summon help.
According to Houston police, there were two other people also shot at the bowling alley and they were taken to the hospital in private transport. There has been no news of their condition since then.
Quavo was not injured in the bowling alley shooting.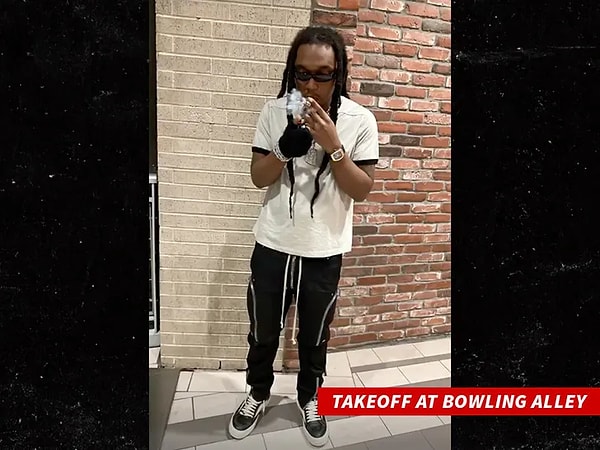 Hours earlier, Takeoff had posted a selfie from the bowling alley to social media. Quavo had also posted earlier in the evening, driving around Houston with music mogul Jas Prince on his 58th birthday.
Takeoff, real name Kirshnik Khari Ball, was the youngest member of the highly successful Migos group.
Alongside Quavo, Offset, the husband of Cardi B and Takeoff's cousin, was the other member of the Georgia trio before they split up earlier this year after a falling out.
The Lawrenceville musical act had been performing since 2008 and eventually became hugely popular after they dropped their first hit 'Versace,' five years later.
Several hits in the following years would top the Billboard charts and go platinum in US sales.
Following the group's split,
Quavo and Takeoff had remained performing together under the act-name 'Unc and Phew,' releasing an album late last month.
The duo's first release was 'hotel Lobby,' in May and their latest hit has been the song 'Messy,' which they dropped an official music video for on Monday.
Quavo & Takeoff -"Messy" (Official Video)
Scroll Down for Comments and Reactions