Mark Zuckerberg Invested $36 Billion Into Metaverse, Took Huge Losses
News
>
Mark Zuckerberg Invested $36 Billion Into Metaverse, Took Huge Losses
Facebook CEO Mark Zuckerberg has spent billions of dollars on his Metaverse project, as well as other VR projects, only to result in huge losses that are immensely damaging his financial gains.
The tech company had emptied a total of $36 billion to Reality Labs, which is the business that developed the Metaverse and other VR businesses. Below are bar charts displaying the costs, expenses, and the cumulative operating loss of the corporation.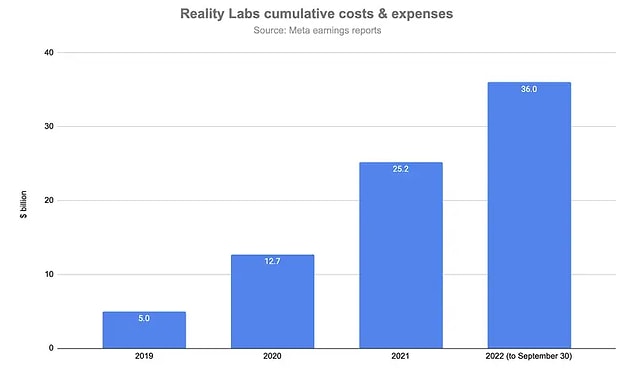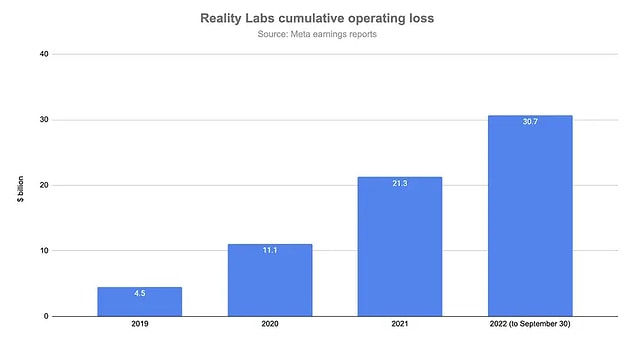 In 2014, Meta purchased Oculus, a producer of VR equipment and software. Mark had rebranded Facebook into Meta just last year to mirror his company's move into the metaverse, which is actually a term taken from sci-fi that makes reference to a technologically advanced version of the web made available through VR and AR instead of computer monitors.
Since the company's rebranding, it's been a difficult journey for them. Meta experienced its first drop in subscriber numbers in the 4th quarter of 2021. It experienced its first ever year-on-year income decrease in the second quarter this year. The tech company's stock has dropped 70.5% year to date, towards less than $100, a peak previously unknown since 2016.
'Reality Labs would contribute a lot to the profits of this company in the 2030s,' Zuckerberg said at the Meta's annual shareholder meeting.
'We anticipate that Reality Labs operating losses will grow significantly year-over-year in 2023,' said CFO David Wehner. The primary factors of these losses, according to Zuckerberg, will be the launch of a new Quest headset and the impact of the first full-year salaries for staff hired in 2022.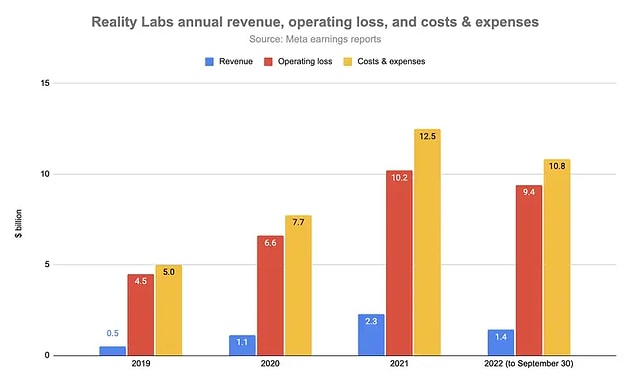 Reality Labs' costs and expenses totaled $12.5 billion for fiscal year 2021, with the division generating $2.3 billion in sales.
The investments that Reality Labs made this year are aligned to outcompete those produced last year, and their costs and expenses expanded to $10.8 billion during the course of 9 months in this year as well, even after the division disclosing only $1.4 billion in sales, which Meta believed to be due in part to lower revenues of its Quest 2 VR headset.
Wall Street is pressuring Meta to make cuts on its metaverse projects. Altimeter Capital, a technology-focused investment company with a 0.1% stake in Meta, prompted the corporation recently to cut staff numbers by at least 20% as well as limit Reality Labs investments to no more than $5 billion per year.
Even with the huge losses in Reality Labs, the Facebook CEO still said that he still has faith that the company is on the right track.