News
Mario Maurer and Baifern Pimchanok Star on the Newest Thai Sci-Fi Romantic Comedy Film 'AI Love You' on Netflix
Mario Maurer and Baifern Pimchanok Star on the Newest Thai Sci-Fi Romantic Comedy Film 'AI Love You' on Netflix
'AI Love You' marks the first time in more than a decade that Thai actors Mario Maurer and Baifern Pimchanok have starred in a film together. They first appeared together in the 2010 hit teen romantic comedy film, 'Crazy Little Thing Called Love'. Since then, they have never work on a movie again until now. But they got a chance to share the screen together in a Thai commercial.
'AI Love You': Released Date and Trailer Revealed
'AI Love You' lands on February 15 to mark Valentine's Day. Netflix has released a trailer for this upcoming Thai romantic comedy film.
'AI Love You': People Behind The Movie
'AI Love You' is helmed by Thai-French actor and filmmaker David Asavanond (Tom Yum Goong) in his directorial debut and writer-creator Stephan Zlotescu (True Skin, Omeebo). It wil be released on the famous streaming platform, Netflix.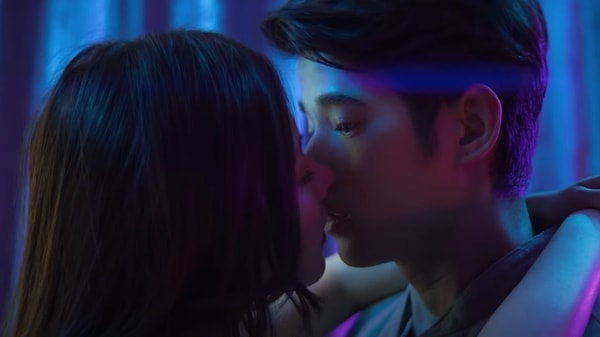 'AI Love You': Plot
Set in a futuristic world where buildings are upgraded with artificial intelligence, AI Love You follows Lana – portrayed by Baifern Pimchanok (Suddenly It's Magic, Friend Zone) – who goes on a date with Bobby – played by Mario Maurer (Bangkok Assassins, Pee Mak) – a racist who charges the date to its judgment in order to get her back to his place.
Lana grumbles about Bobby to Dob, her building's AI, which admits its love for her. Dob's AI is reported as defective, and Bobby is tasked to reset the building's code – only for Dob to take over Bobby's body to go after a relationship with Lana.
Are you excited about the release of this futuristic Thai romantic comedy film 'AI Love You' on Netflix? Please share your thoughts by dropping your comments below.
Scroll Down for Comments and Reactions