Madea's Witness Protection on Amazon Prime Video
News
>
Madea's Witness Protection on Amazon Prime Video
'Madea's Witness Protection' is an American comedy film directed, written, and produced by Tyler Perry. The film will be available for streaming this February 1 on Amazon Prime Video!
Tyler Perry's Madea's Witness Protection (2012) - Official Trailer #1
About The Film
The story revolves around Madea hosting a family that has been placed in the FBI's witness protection program.
'Madea's Witness Protection' is the fourteenth film by Tyler Perry. The movie is also the seventh installment in the Madea film series, and is the first Madea film not to be adapted from a play. 
'Madea's Witness Protection' was filmed in Atlanta from early 2012 and was released through 34th Street Films and Lionsgate. The film garnered a total of about $67 million box office gross. 
'Madea's Witness Protection' is in the top three of Tyler Perry's most successful movies, coming after Boo! A Madea Halloween and Madea Goes to Jail.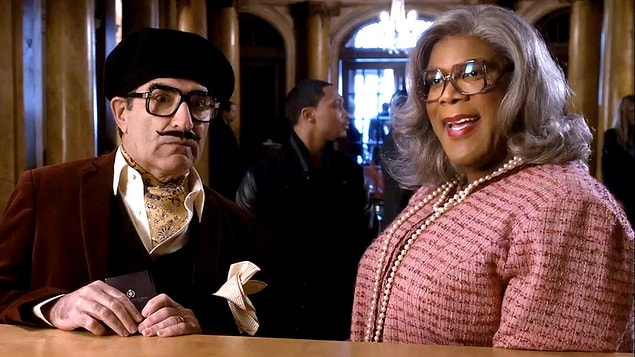 The Cast
Tyler Perry as the following:

Mabel 'Madea' Simmons

Brian Simmons

Joe Simmons

Eugene Levy as George Needleman

Denise Richards as Kate Needleman

Doris Roberts as Barbara Needleman

Romeo Miller as Jake Nelson

Tom Arnold as Walter Burns

John Amos as Pastor Nelson

Marla Gibbs as Hattie

Danielle Campbell as Cindy Needleman

Devan Leos as Howie Needleman

Jeff Joslin as Lucas

Frank Brennan as Jack Goldenberg

Charlie Sheen as Himself
More About The Film
Despite its box office success, 'Madea's Witness Protection' received negative reviews. Based on 36 reviews, the film scored a 19% with an average rating of 3.82 out of 10 on Rotten Tomatoes. While on Metacritic, the film received a 'mixed or average reviews', scoring 42 out of 100 based on 15 critic reviews. On CinemaScore, the film was given an A-grade.
Enjoyed the film otherwise? Tell us your thoughts about Tyler Perry's 'Madea's Witness Protection' in the comment section below!