News
Legal Drama Series 'The Lincoln Lawyer' Season Premiere: Release Date, Trailer, Storyline And More
Legal Drama Series 'The Lincoln Lawyer' Season Premiere: Release Date, Trailer, Storyline And More
'The Lincoln Lawyer,' based on Michael Connelly's 2008 novel The Brass Verdict,' is an upcoming American legal drama streaming television series conceived for television by David E. Kelley and developed by Ted Humphrey. The story follows a lawyer who works out of his famous Lincoln Town Car.
'The Lincoln Lawyer' Release Date
On Friday, May 13, 2022, The Lincoln Lawyer will premiere on Netflix in the United States and the United Kingdom. Netflix has revealed that there will be ten episodes of The Lincoln Lawyer. Each episode will be 60 minutes in length.
'The Lincoln Lawyer' Trailer
When seeing the first season trailer for The Lincoln Lawyer, one can't help but think of Boston Legal. Check it out for yourself:
'The Lincoln Lawyer' Storyline
For defense attorney Mickey Haller, things are finally looking better. Haller is back in court after two years of incorrect turns. When Hollywood lawyer Jerry Vincent is assassinated, Haller inherits his most difficult case to date: defending Walter Elliott, a powerful studio boss accused of killing his wife and her lover.
However, as Haller prepares for the case that could propel him to stardom, he discovers that Vincent's killer may be on the hunt for him as well. Here comes Harry Bosch. He is not opposed to using Haller as bait in his quest to uncover Vincent's killer. As the danger grows and the stakes escalate, these two loners realize they have no choice except to team up.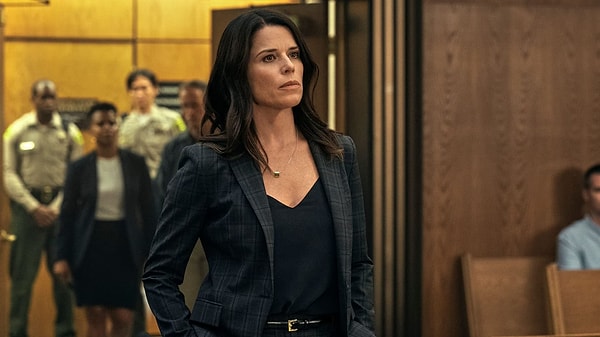 'The Lincoln Lawyer' Cast
It stars Manuel Garcia-Rulfo as Mickey Haller, a defense attorney in Los Angeles who works out of a chauffeur-driven Lincoln Town Car rather than an office. In leading roles, Neve Campbell as Maggie McPherson, Becki Newton as Lorna, Jazz Raycole as Izzy, Angus Sampson as Cisco, and Christopher Gorham as Trevor Elliott also star. Also recurring are Ntare Guma Mbaho Mwine as Detective Raymond Griggs, LisaGay Hamilton as Judge Mary Holder, Jamie McShane as Detective Lee Lankford, Reggie Lee as Angelo Soto, and Krista Warner as Hayley Haller.
Are you going to be watching 'The Lincoln Lawyer' series on Netflix? Let us know in the comments below!
Scroll Down for Comments and Reactions