News
Josh Gordon and Will Speck's 'Hit-Monkey' Gets Season Two Renewal at Hulu
Josh Gordon and Will Speck's 'Hit-Monkey' Gets Season Two Renewal at Hulu
Cheers to more adult-animated superhero deeds as Hulu renews Hit-Monkey for the second season. 
Hulu ordered the television series (initially referred to as Marvel's Hit-Monkey in season one) from Marvel Television in February 2019, airing its first season in November 2021. 
On Thursday, February 2nd, 2023, Hulu renewed Hit-Monkey for the second season, over a year since the series landed on the streamer.
'Hit-Monkey' Ratings
Hit-Monkey is an adaptation of one of Marvel Comics' characters of the same name. 
The show received massive positive reviews from various platforms thanks to its top-notch animation, action, voice acting, and plot. 
Hit-Monkey received a whopping 7.8/10-star rating on IMDb and an 88% average audience score on Rotten Tomatoes (accompanied by an 84% average Tomatometer).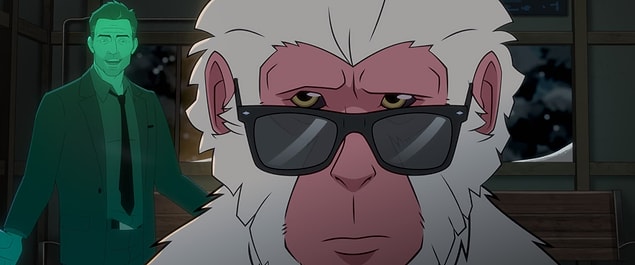 More Details Concerning Hulu's 'Hit-Monkey' Season 2
Hit-Monkey's recent renewal news shocked many, given that the first season ended more than a year ago. Many fans had nearly lost hope in its continuation, assuming Hulu had canceled it without publication. Hit-Monkey fans, cast, and crew are rejoicing about the surprising news as they prepare for more action. 
The series focuses on a leading Marvel Comics character, Hit-Monkey, under mentorship by an American assassin's (Bryce Fowler) ghost. Hit-Monkey destroys Tokyo's crime underworld before following the murder of his entire family before shifting to New York City alongside his ghost mentor. 
While Hulu and the show creators haven't revealed much about the recently renewed season, it will most likely focus on Hit-Monkey and his mentor Bryce as they navigate Japan to New York City.
Who Created 'Hit-Monkey'?
Hit-Monkey is created by Josh Gordon and Will Speck, chief producing alongside Jeph Loeb, Karim Zreik, Joe Quesada, and Grant Gish. 
The series is a co-achievement of Marvel Television (first season), 20TH Television Animation (second season), and Speck Gordon Inc., with producers Marcus Rosentater, Molly Brock, and Duffy Boudreau.
Who Will Appear in 'Hit-Monkey' Season Two?
Although neither Hulu nor the creators of Hit-Monkey have made much confirmation regarding the cast for the series' second season, Fred Tatasciore and Jason Sudeikis will likely resume their titular roles as Hit-Monkey and Bryce Fowler. 
Several sources also revealed that Ally Maki and Olivia Munn would return in the second season as Haruka and Akiko, joined by Leslie Jones in an undisclosed role.
When Will Season Two of 'Hit-Monkey' Hit the Screens?
So far, no details have been offered concerning the release date of Hit-Monkey season two. 
However, fans can still enjoy a re-watch of the first season on Hulu as we wait for further information.
Scroll Down for Comments and Reactions