News
Jason Bateman Headlines in this 2015 Drama Mystery Thriller 'The Gift': Get to Know More of this Movie Coming on Netflix
Jason Bateman Headlines in this 2015 Drama Mystery Thriller 'The Gift': Get to Know More of this Movie Coming on Netflix
'The Gift,' written, co-produced, and directed by Joel Edgerton in his feature directorial debut, and co-produced by Jason Blum and Rebecca Yeldham, is a 2015 psychological thriller film. Simon and Robyn Callem, played by Jason Bateman and Rebecca Hall, are a couple who are terrified by a character from Simon's past, played by Joel Edgerton.
It was released in the United States on August 7, 2015, as STX Entertainment's debut film. On a budget of $5 million, the picture grossed $60 million worldwide and garnered favorable reviews from critics, who applauded Edgerton's direction and writing, as well as Bateman's acting.
'The Gift' Release Date and Trailer
'The Gift' is about to release on March 1st 2022 on the streaming giant Netflix together with more of the film and series lined by Nteflix on the same date.
Netflix has also dropped a trailer of the film. You can watch it right here.
The Gift Official Trailer (2015) - Jason Bateman Psychological Thriller
'The Gift' Storyline
Simon and Robyn are a young married couple whose lives are going according to plan until a fortuitous encounter with a high school acquaintance sends their world into a terrifying spiral.
Simon doesn't recognize Gordo at first, but as a series of unwelcome encounters and unusual gifts become problematic, Simon discovers a terrifying secret from the past that has been hidden for more than 20 years.
Robyn begins to wonder, as she learns the uncomfortable reality about what transpired between Simon and Gordo, how well do we really know the people closest to us, and are past bygones ever truly bygones?
'The Gift' Cast Ensemble
'The Gift' stars Jason Bateman as Simon, Rebecca Hall as Robyn, Joel Edgerton as Gordo, 
Allison Tolman as Lucy, Wendell Pierce as Detective Mills, Tim Griffin as Kevin 'KK' Keelor,
Beau Knapp as Detective Walker, Adam Lazarre-White as Ron, Katie Aselton as Joan, P.J. Byrne as Danny, David Denman as Greg, and Busy Philipps as Duffy. Joel Edgerton's brother, Nash Edgerton, plays the part of Frank Dale, in addition to his duties as the film's stunt coordinator.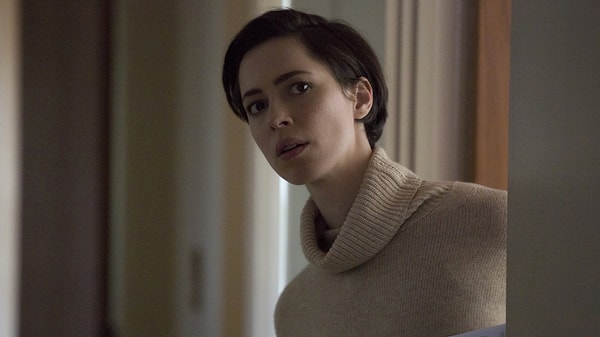 'The Gift' Production and Box-office Details
In August 2012, the project was revealed, with Joel Edgerton authoring the screenplay and Edgerton planning to direct his first film. Alfred Hitchcock's Fatal Attraction and Michael Haneke's 2005 French film Caché, as well as Park Chan-Vengeance wook's Trilogy, served as influences for the screenplay.
On January 19, 2015, principal photography began and completed on February 20, 2015. The majority of the filming took place at a property in Hollywood Hills, where STX Entertainment also conducted promotional interviews for the film. According to cinematographer Eduard Grau, the film was shot on an Arri Alexa with Canon K35 lenses and shot in 25 days. After working together on the 2013 short film Streetcar, Grau was suggested by Nash Edgerton, who acted as the film's stunt coordinator. 
From March to June 2015, post-production took eleven weeks. The film's US distribution rights were purchased by STX Entertainment on January 20, 2015. The film was renamed The Gift by STX.
The Gift was originally scheduled to be released in the United States on July 31, 2015, but was later pushed back to August 7, 2015. On April 1, 2015, the first trailer was released. It debuted on Periscope, Twitter's live video streaming service, making STX Entertainment the first advertiser to work with Twitter on a Periscope campaign.
Against a budget of $5 million, The Gift generated $43.8 million in North America and $15.2 million in other territories for a worldwide total of $59 million.
The picture made $11.9 million in its first weekend, placing third behind Mission: Impossible – Rogue Nation ($28.5 million) and fellow newcomer Fantastic Four ($25.7 million).
Scroll Down for Comments and Reactions