News
Hulu's 'How I Met Your Father' Gets January 2023 Season 2 Premiere
Hulu's 'How I Met Your Father' Gets January 2023 Season 2 Premiere
The second installment of How I Met Your Father is just around the corner to keep your heart warm this chilly winter. The season comes a year after the show debuted on Hulu on January 18, 2022, with ten episodes of the first installment. 
How I Met Your Father is an inspiration from Craig Thomas and Carter Bays' sitcom, How I Met Your Mother which ran from 2005 to 2014. Elizabeth Berger and Isaac Aptaker create the situation-comedy series as a Hulu original. 
The first season attracted average scores, revealed through a 51% average audience score on Rotten Tomatoes and 5.5 out of 10 stars on IMDb. Hulu offered How I met Your Father a season two renewal in February 2022, when season one was ongoing.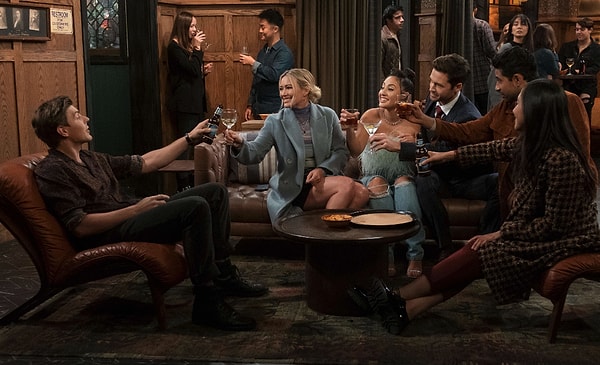 What's 'How I Met Your Father' Season Two About?
How I Met Your Father happens eight years after the occurrences of its pacesetter, How I Met Your Mother, starring a group of friends. The show is set in 2050 when the 58-year-old Sophie explains to her son how she met his father in 2022.
How I Met Your Father 'takes back' fans into 2022 as Sophie and her age mates sail through the highs and lows of online dating while striving to discover their destinies. The second season will continue from where its predecessor left off, with more discoveries from the star, Sophie.
Here's a recap of the first season!
Who Created 'How I Met Your Father'?
HIMYF is a Hulu original series created by Berger and Aptaker, who also chief produce with How I Met Your Mother creators Thomas and Bays. 
Adam Londy and Pamela Fryman serve as co-chief producers and Hillary Duff as the producer. HIMYF is a co-project of 20th Television, The Walk-Up Company, and Bays Thomas Productions.
Who Will Appear in 'HIMYF' Season Two?
The second season will welcome back many actors from season one, including Kim Cattrall as the 2050 Sophie, Hillary Duff as the current Sophie, Josh Peck (Drew), Ashley Reyes (Hannah), and Daniel Augustin (Ian). 
Other characters are Leighton Meester, Tein Tran, Tom Ainsley, and Suraj Sharma.
When is 'HIMYF' Season Two Coming Out?
Season two of HIMYF will land on Tuesday, January 24, 2023, with approximately ten episodes, as witnessed in its pacesetter. 
Fans can access the first season on Hulu per its streaming charges.
Scroll Down for Comments and Reactions