News
HBO Max Drops 'Doom Patrol' Season 4 Trailer Revealing the Coming of a Very Real Immortus
HBO Max Drops 'Doom Patrol' Season 4 Trailer Revealing the Coming of a Very Real Immortus
Brace yourself for more twisted drama in the fourth season of HBO Max's Doom Patrol next month.
Trailer
The streamer has dropped an official trailer for the show's fourth season that begins with Willoughby informing the Doom Patrol that something big and dangerous is coming. 
"Immortus is real, and it's coming. We are wandering into the literal end of days as we speak," Willoughby mentions atop the preview. 
Though the trailer doesn't give many details about Immortus, Doom Patrol fans can recall that he was introduced in 1955 alongside the team, making him the most mysterious adversary. 
See more of what's to come in the video below. And yes, there will be lots of singing and jiggling by the were-butts.
Synopsis
As indicated by HBO Max, the fourth season kicks off with the Doom Patrol unexpectedly journeying to the future, which isn't bright for them. Overlooking their coming deaths, the team must choose between saving the world or saving themselves.
Who Returns in 'Doom Patrol' Season 4?
Mark Sheppard reprises his role as Willoughby Kipling. He is joined by The Mummy star Brendan Fraser as Cliff Steele/Robotman, Diane Guerrero (Jane the Virgin) as Crazy Jane, Joivan Wade (Doctor Who) as Victor Stone/Cyborg, Matt Bomer (White Collar) as Larry Trainor/Negative Man, April Bowlby (Two and a Half Men) as Rita Farr/Elasti-Woman and Michelle Gomez (Green Wing) as Laura de Mille/Madame Rouge.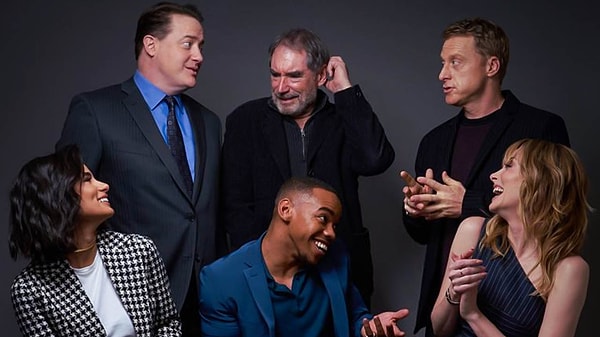 How Many Episodes Does 'Doom Patrol' Season 4 Have?
Doom Patrol season 4 is expected to premiere with 12 episodes exclusively on HBO Max. The first two episodes will be released on December 8 2022 and then one episode will land each week through January 5 2023, concluding the first half. The debut schedule for the last six episodes is yet to be revealed. 
Here's a simple guide to the episodes release schedules:
Episode 1: Hope Patrol- December 8 2022

Episode 2: Nostalgia Patrol- December 8 2022

Episode 3: Fame Patrol- December 15 2022

Episode 4: Youth Patrol- December 22 2022

Episode 5: Casey Patrol- December 29 2022

Episode 6: Butt Patrol- January 5 2023

Episode 7: Portal Patrol

Episode 8: Orqwith Patrol 

Episode 9: Tomb Patrol 

Episode 10: Immortimas Patrol

Episode 11: Done Patrol 

Episode 12: Doom Patrol (Season Finale)
Scroll Down for Comments and Reactions