News
Five Best Cooking Shows on Netflix That Are Worth Your Time
Five Best Cooking Shows on Netflix That Are Worth Your Time
Food shows have a way of capturing people's attention, regardless of age, race, or culture. Watching and learning how to cook new meals alongside comedy, fun, and adrenaline-rush scenes is naturally captivating. 
Netflix has for years brought such shows, both in holidays and other seasons, to keep its viewers constantly entertained. This post presents some of Netflix's best food shows you can stream as the year ends.
5. 'Heavenly Bites: Mexico' (2022)
Heavenly Bites: Mexico is a Netflix-Mexican food show presenting Mexico's most delicious and traditional foods. The documentary, which launched its first episode in January 2022, digs deeper into the origin and history behind Mexico's most cherished tastes, no matter how strange they may appear. 
Heavenly Bites: Mexico is directed by Juan Márquez, who also wrote the show alongside Natalia Varela, Alfredo Mendoza, and Ricardo Avilés. The documentary is produced by Ivonne Gutierrez, alongside Laura Woldenberg and Nacho Gil as the show creators. Heavenly Bites: Mexico boasts Bill Rogers, Andrew Danish, Guillermo Villegas, and Rodrigo P. Ortega on the cast list. 
Although a renewal for the second season hasn't been announced yet, fans have kept their hopes high thanks to the outstanding scores that the first season managed. Heavenly Bites: Mexico season one scored a 6.3/10-star rating on IMDb, a 6 out of 10 on FilmAffinity, and a 3.5 out of 5 on Leisurebyte.
4. 'The Chef Show' (2019-2020)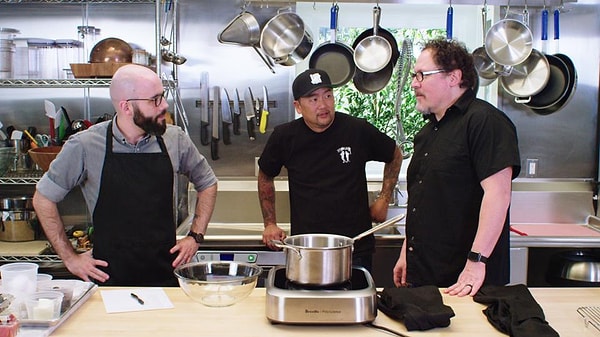 The Chef Show is a two-season cooking show presented by Jon Favreau and Roy Choi for Netflix. The first season of The Chef Show premiered in June 2019, followed by season two, which landed on September 2020. Favreau teamed with Choi on a journey to present the best cuisine dishes in the most entertaining way possible. 
The pair also engaged several guests across the two seasons, including Dave Chang, Robert Downey Jr., Seth Rogen, and Andrew Rea. Other guest stars included Tom Holland, Bill Blurr, Spencer Gomez, Daniel Vaughn, Wolfgang Puck, Gwyneth Paltrow, and Aaron Franklin. 
The Chef Show is created and chiefly produced by Jon Favreau, who also served as the director. The documentary was hosted by Favreau, while Annie Johnson co-chief produces. The Chef Show is a Fairview Entertainment project. 
The Netflix cooking documentary managed an outstanding 8.2 out of 10-star rating on IMDb and a 94% audience score, with a 100% Tomatometer on Rotten Tomatoes. If there's a cooking show that should keep your festive season occupied, then that's The Chef Show.
3. 'Taco Chronicles' (2019-2020)
The world is no longer living with Taco Tuesdays, but rather Taco every day. Taco Chronicles is an America-Mexican food show strictly concentrating on Tacos. 
The documentary series presents the history and culture behind the cherished Mexican street food alongside various styles of cooking the delicacy. Across the past two seasons, Taco Chronicles involves street vendors, experts, and writers as they tell more about Tacos. 
Pablo Cruz created Taco Chronicles as a co-project of Gloria Content and Canana Films. Hallie Davison chiefly produced the show. The Netflix documentary series managed an impressive 7.8 out of 10-star rating on IMDb and a 95% audience score on Rotten Tomatoes, with a 100% Tomatometer. With such scores, the chances of Taco Chronicles' season three renewal are high.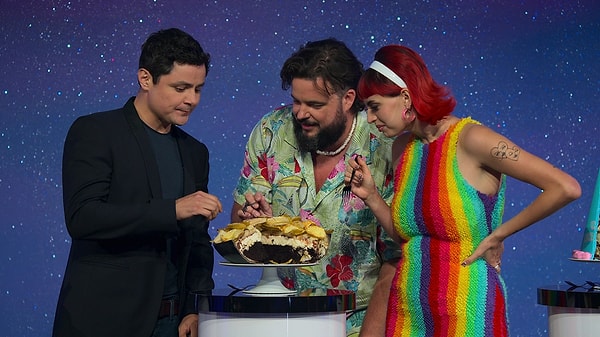 Another one on the best Netflix food shows list is Is It Cake? The cooking competition TV show launched its first season in March 2022, created by Jane Lipsitz and Dan Cutforth. Is It Cake follows the style of many cooking competition shows but in a more captivating way. 
The eight-episode series is based on the popular YouTube and Tiktok meme, Is It Cake, where people can choose a cake from several foods or stuff disguised as cakes. Through each episode of Is It Cake, contestants are presented with different objects and are required to bake a cake similar to the object chosen for that particular episode. 
The judges are also presented with different sets of objects similar to the contestants'. If the judges correctly determine the cake against the other objects, the baker is eliminated from the competition. The final winner stands to win a grand cash prize of $50,000- interesting, right?
Is It Cake is one cooking competition you can never get tired of, thanks to the fun guessing and cooking scenes. The series managed a score of 60% on average Tomatometer, with a 40% average audience score on Rotten Tomatoes and a 5.8 out of 10-star rating on IMDb.
1. 'Junior Bake Off' (2011- Present)
While most cooking or food shows air for approximately two to three seasons, the extraordinary Junior Bake Off has run for seven seasons, from 2011 to 2022 and beyond, maybe. The series launched its first four seasons on Channel 4 before shifting to Netflix for seasons six and seven. 
Junior Bake Off presents a great British food competition with everything you would expect from the young and brilliant chefs (aged 9 to 15), group competition, different baked meals, challenges, and, most important, prizes to be won. The show is rated for age 5+, meaning the entire family can confidently jump into it this coming holiday. 
Junior Bake Off has managed an outstanding 4.5 out of 5-star rating on Common Sense Media and a 7.6 out of 10 on IMDb. Various sources have confirmed that Junior Bake Off will resume in 2023 for its eighth season.
Scroll Down for Comments and Reactions