Everything About Hulu's 'Dragons: The Nine Realms' Season Three
Time flies; It even flies faster than dragons. With just a blink of an eye, we've found ourselves talking about Dragons: The Nine Realms season three, two months after the second season launched. 
The How to Train Your Dragon-oriented series is back for its third season with a new, much fun discovery, the Fire Realm.
A Recap of Season Two
The second season, which launched on May 5th, 2022, followed the discovery of the Crystal Realm with Kullersen leading the fashionable squad of Dragon Riders as they protect the dragons from harm and protect their secrets.
What's 'Dragons: The Nine Realms' Season Three About?
The third season follows the Dragon Riders as they uncover another empire, the Fire Realm, with a group of never-witnessed-before dragons. 
Still commissioned to shield their secrets from the humans, the dragon riders must master how to sail through this discovery while protecting the Lighting Bird carefully. They encounter the most powerful dragons in the mission to salvage the Crystal Realm. 
The Dragon Club is almost getting shocks from all corners; dragons are a threat, humans are a threat, and to make matters worse, trying little siblings are also a threat. It appears to be a challenging journey, but our crew is up for the dare.
The Team Behind 'Dragons: The Nine Realms' Success
The seven-episode series returns with most beloved characters like Aimee Garcia (Alexandra Gonzalez), Marcus Scribner (D'Angelo Baker), Ashley Liao (Jun Wong), and Tom Kullersen of Adventure Time as Jeremy Shada. 
Other talents include D'arcy Carden (Linda), Justina Machado (Carla Gonzalez), Keston John (Philip Baker), Lauren Tom (May Wong), and Julia Stiles (Olivia, Kullersen's mother). 
Dragons: The Nine Realms is written by Emma Dudley, Mae Catt, Mark Henry, John Tellegen, and Henry Gilroy, with Leo Riley, Robert Briggs, Andrew Collins, and Mandy Clotworthy as the directors. Gilroy, Tellegen, and Chuck Austen Rare are the series' chief producers, with Beth Sleven as the supervising producer.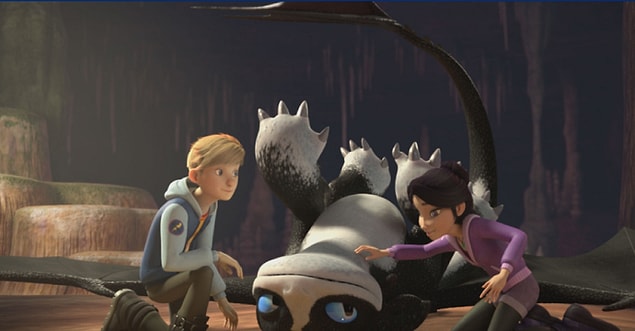 Release Date and Trailer
The third season of Dragons: The Nine Realms will land on our screens this Thursday, August 18th, exclusively on Hulu and Peacock. 
The official Peacock Kids YouTube page has unveiled a trailer for more descriptions concerning this third instalment. 
DreamWorks TV also seems super excited about its upcoming achievement; the animation company released a 30-second trailer for Dragons: The Nine Realms season three on its primary Twitter account under a statement, 'New dragons, new adventures, and all new episodes.'