Drake and 21 Savage Joint Album's Release Date Delayed
News
>
Drake and 21 Savage Joint Album's Release Date Delayed
Drake and 21 Savage have pushed back the release date of their joint album, 'Her Loss,' from this Friday (28th October).
The highly anticipated collaboration project has been pushed back because the producer has become ill with coronavirus.
Drizzy said he had 'become sick' with the virus while mixing and mastering the joint project.
On Wednesday, Drake announced on his Instagram Story that the album would be delayed as longtime producer, Noah '40' Shebib, had become sick with coronavirus while working to add the finishing touches to the album.
'Our brother @ovo40 got Covid while mastering the crack so he's resting up and NOVEMBER 4th is HER LOSS day so we'll see you soon,' Drizzy posted to Instagram.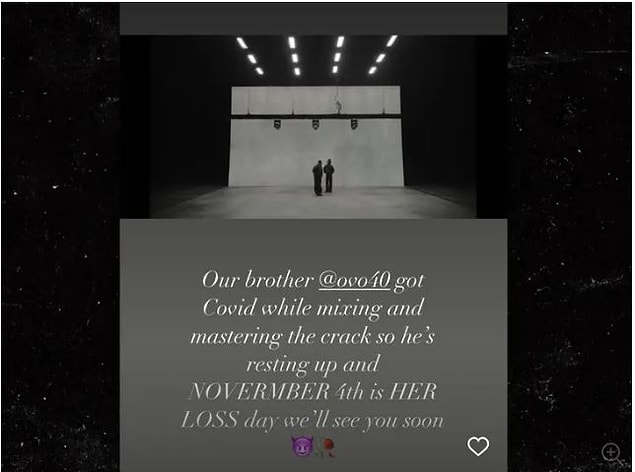 The album is being labelled 'Fan's Loss' online because of its short delay.
Drake and '40' have worked together for much of his career, with Noah completing much of the production on the Toronto native's albums.
There may yet be a silver lining regarding the album's release for Drake and 21 Savage though.
This Friday has been earmarked by a whole host of big names from the world of hip hop as an album release day, including Rihanna, who makes her musical comeback after a six year break.
This means that 'Her Loss,' will have less competition and might do better sales-wise on its new release day of November the fourth.
Although there had been speculation, news of the album did not come until last Friday, when Drake announced it through a novel device.
Drizzy released the music video for the song 'Jimmy Crooks,' from his latest album 'Honestly, Nevermind,' which debuted at number one on the Billboard 200 charts.
In the short music video was a message for fans.
After Drake finished rapping his verse, a message appeared on the screen announcing 'Her Loss,' and its release date, which was due to be the 28th October.
All the while, long time collaborator 21 Savage stood in the background of the music video.
The duo have worked together on a number of songs in the past; teaming up for 'Knife Talk,' from Drake's 'Certified Lover Boy,' last year and 'Mr. Right Now,' from Savage's 'Savage Mode II' project with Metro Boomin in 2020.
Another collaboration between the pair includes 'Sneakin,' released in 2016.
Drake - Sneakin' ft. 21 Savage (Official Video)
Only this week, Drake celebrated his 36th birthday in style at Miami nightclub, Sexy Fish.
A number of star guests were in attendance as the Toronto rapper raffled off several great prizes, including cash gifts and Rolex watches, at the party.