'Dota: Dragon's Blood' Season 2 Is Back on Netflix
News
>
'Dota: Dragon's Blood' Season 2 Is Back on Netflix
Big cheers for the Dota zealots out there! 'Dota: Dragon's Blood' Season 2 is back for streaming on Netflix this January.
DOTA: Dragon's Blood is based on Valve's popular MOBA video game Dota 2. Ashley Miller, who happens to be the creator of the series, is also the person behind the superhero movies Thor and X-Men: First Class. It is under the joint production of Ashley Edward Miller of Kaiju Boulevard and Studio Mir Co., Ltd, a South Korean animated studio that is currently working on the animated Witcher prequel, The Witcher: Nightmare of the Wolf.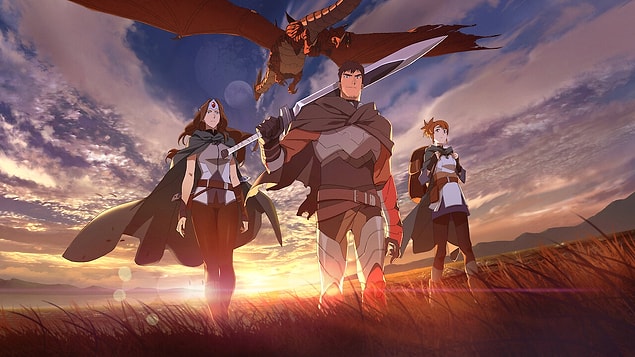 The Voices Behind The Characters Of 'Dota: Dragon's Blood'
Yuri Lowenthal as Davion: a Dragon Knight who hates dragons for massacring his whole family as a boy.
Lara Pulver as Princess Mirana: the exiled princess of the Nightsilver Woods
Tony Todd as Slyrak the Ember Eldwyrm: one of the Eight Great Dragons who is proud and destructive.
Troy Baker as Invoker: a powerful magical Elven Sage who is pivotal to Mirana's quest.
Josh Keaton as Bram: Davion's squire, now serving Kaden in 'curing' Davion of Slyrak's possessing him.
Kari Wahlgren as Luna: once known as Scourge of the Plains, she commits war crimes upon the Elves who refuse to worship Selemene.
Alix Wilton Reganas Selemene: the goddess of the Moon, and an antagonist to the Elven Enclaves who refuse to worship her. 
Freya Tingley as Fymryn: a young Elven girl who steals Lotuses from Nightsilver Woods because of a prophecy about her Moon goddess, Mene.
Stephanie Jacobsen as Drysi: leader of the Elven Resistance against the Dark Moon Order's colonization and conversion of her people under Selemene's zealots.
Anson Mount as Kaden: the only Dragon Knight to survive fighting an Eldewyrm.
JB Blanc as Terrorblade: The main antagonist of the series, a demon aiming to kill the dragons in a plan to reshape the universe as he desires.
DOTA: Dragon's Blood | Official Trailer | Netflix
'Dota: Dragon's Blood' Gets High Ratings
The starter season gets a high approval rating of 7.9 out of 10 in IMDb and 86% on Rotten Tomatoes. Having said so, DOTA enthusiasts are thrilled about the continuation of the series.
Netflix has confirmed the arrival of season 2 of the epic fantasy-adventure anime series on January 18, 2022.
Please let us know your thoughts about this through the comment section below.