News
Does Bella Poarch Have a Boyfriend? How did She Become Popular?
Does Bella Poarch Have a Boyfriend? How did She Become Popular?
Bella Poarch's real name is Isabella Taylor. In an effort to build a brand on social media and maintain the privacy of her personal life, 'Bella Poarch' came to be.Bella Poarch is a social media influencer, musician, and content creator of Filipino descent. She is well recognized for her comedy and lip-sync videos that she posts on her well-liked TikTok account. In just a few months after starting her TikTok account in 2020, she got famous there.
She is recognized with producing the most famous TikTok video, a lip-sync rendition of the hit song Soph Aspin Send by British artist Millie B. Bella Poarch is well-known outside of TikTok and is active on several significant social media sites, including YouTube, Twitter, and Instagram. 
She is also well renowned for her singing abilities. Warner Records has dubbed her debut song Build a Bitch as the largest YouTube debut in history.
Bella Poarch Birthday, Height, Body Measurements + Relationship Status
Bella Poarch was born on February 8, 1997, and is now 25 years old. Due to a Facebook account and an Instagram post commemorating her 18th birthday in 2019, which would have made her 20 years old, there have been concerns regarding her age. However, others have questioned her actual birthdate because if she joined the US Navy in 2015, she would have been 14 years old. To join, you must be 17 years old.
Bella Poarch measures 155 cm (5 feet 2 inches) tall and weighs 56 kg (123 lbs). She carries a bra size of 27-C and has a body measurement of 28-23-35.
Bella Poarch is not dating anyone right now and is single. However, she's rumored to be getting to know Joshua Garcia, a Filipino actor whom she admitted she had a crush on.
Bella's Career Before and during TikTok Stardom + Net Worth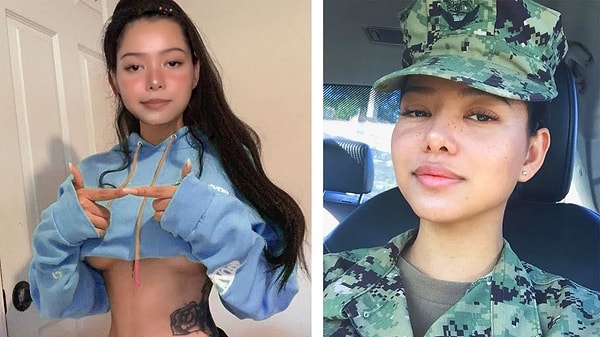 Bella Poarch began her career as a US veteran, per the media reports. In 2015, Bella enlisted in the American Navy. She was employed there for five years until leaving in 2020. She then began posting videos on TikTok and rose to fame.
Bella Poarch, who belongs to the AAPI community, frequently expresses her support for the struggle against anti-Asian bigotry. She published a TikTok video on March 19, 2021 in an effort to raise awareness of the issue. Poarch enjoys getting inked, and her body is covered in tattoos. One of these tattoos sparked debate because it resembled the Rising Sun Flag.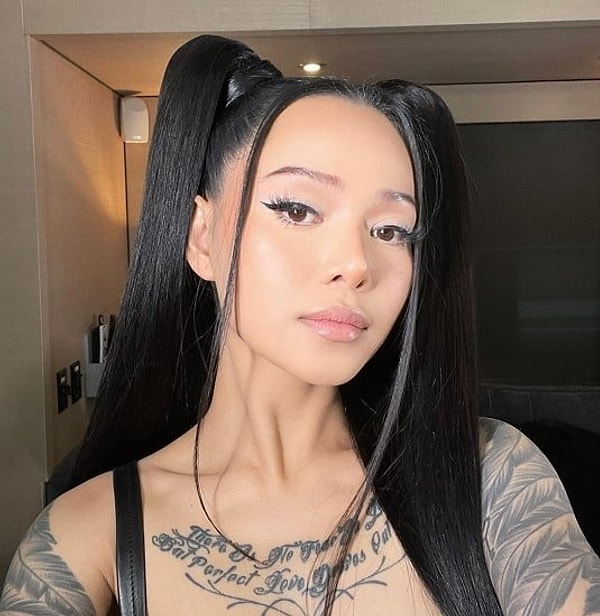 The tattoo represented Japanese imperialism, which East and Southeast Asians found distasteful. In September 2020, she expressed regret and got the tattoo covered.
In April 2020, she created a TikTok account, and very quickly, she rose to fame online. One of her lip-syncing videos is what went viral online and garnered her tremendous global fame. She used the 'It's M to the B' track in this specific instance. More than 10.5 million people have liked this video, and it has garnered a huge fan base across all of her social media channels. Before she had uploaded a video to her YouTube channel, she already had more than 200,000 subscribers.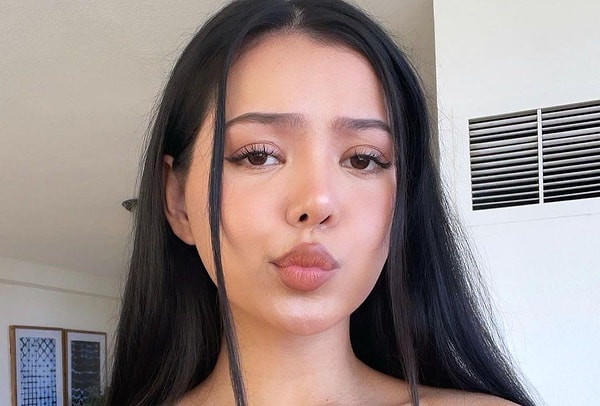 In November 2020, Bella released her first line of fan merchandise. In October 2020, she also recently worked with American rapper Tyga. A Selena Gomez song featuring the Korean girl group BLACKPINK included her TikTok video. She is valued at around $500,000 per project.
The total wealth of Bella Poarch is $12 million dollars. With more than 50 million likes, Bella Poarch currently holds the record for the most-liked TikTok video. Bella Poarch has amassed over $6 million in advertising income over the past year through her TikTok, Instagram, and YouTube social media profiles.
Scroll Down for Comments and Reactions