News
Deception & Lies Bores Deep Roots in The Family in Apple TV's Original Film 'Sharper'
Deception & Lies Bores Deep Roots in The Family in Apple TV's Original Film 'Sharper'
This Valentine's A24 and Apple TV+ will drop an enigmatic film that showcases the dark side of love and family, Sharper, starring A-listers John Lithgow, Julianne Moore, Sebastian Stan and breakout stars Justice Smith and Briana Middleton.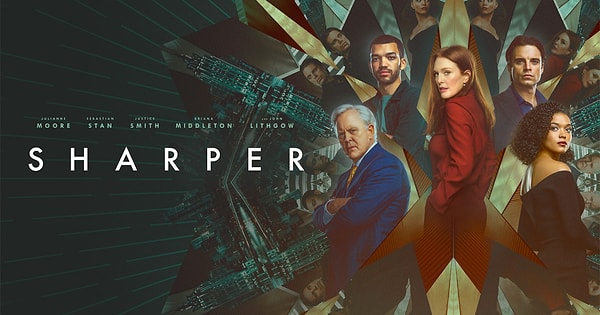 The Trailer for 'Sharper'
From the trailer that came in a couple of days ago, Sharper is about a dangerous con game in a family driven by greed, jealousy and lust. 
Lithgow, who plays a powerful billionaire Richard Hobbes, struggles with his con artist shell of a son Max, starring Stan. But even Richard seems less vile than his wife Madeline, portrayed by Moore, a somewhat trophy wife who enjoys feasting on her handsomely rich husband's wealth. 
The billionaire feels like none of his sons, including Smith's character Tom has what it takes to inherit his empire. Max concocts a plan with presumably his friend or partner in crime Sandra, played by Middleton, to seduce Tom into loving her, all typing up to their father's billions. 
The words, 'can you read between the lines', certainly hint at the unexpected twists and unpleasant turns to expect in the psychological thriller.
The Production Team
Sharper is directed by Emmy and Golden Globe Award winner Benjamin Caron from a script crafted by Alessandro Tanaka and Brian Gatewood. 
Caron hailed the enormous dedication he received from the ensemble cast during filming. He described his experience as "unilaterally spectacular".
He shared the film's source of inspiration with PEOPLE Magazine, saying, 'Sharper is inspired by a long line of great films that love to keep audiences guessing until the end. Some of them are The Sting, The Usual Suspects, The Color of Money, House of Games, The Thomas Crown Affair, Drive, and Klute, among others.'
62-year-old Moore co-produces the film together with Bart Freundlich, Eri Feig, Jessica Switch, Tanaka and Gatewood. 
Amy Herman and Julia Hammer serve as executive producers.
When Will 'Sharper' Premiere?
Sharper will be released in select theaters on Friday, February 10, before heading to Apple TV+ on February 17.
Scroll Down for Comments and Reactions