News
Atlanta Rapper Lil Baby releases new single and video from new album
Atlanta Rapper Lil Baby releases new single and video from new album
Atlanta rapper Lil Baby released a new single and music video from his upcoming album on Monday.
The song, titled "Heyy," was announced by the rapper on his social media along with the tracklist from his album "It's Only Me," which will drop later on this week.
The melodic song eludes to the rapper's rise as an artist and also details several of his romantic relationships with women and it is interlaced wit the catchy hook of "Heyy."
The music video, which already has thousands of views, sees the rapper perform in front of the camera in several interesting scenarios.
In the opening scene the rapper raps behind a desk littered with dollars and in another the artist performs on top of a Humvee truck. 
The best cut-scene features Lil Baby rapping atop a floating platform while sharks encircle him in the water below.
Twitter Announcements
The Georgia-born hip-hop artist announced he would be dropping a song and video on Twitter on Sunday night. He didn't disappoint his 7.1 million followers and followed up his announcement with the releases today. The rapper produced 5 tweets in total for his many fans, all with clips of his new music video.
New Tracklist
He also released the names of the 22 other tracks that will be on the lengthy new album.
Amongst the other artists that will be on the album are the likes of Young Thug and Future, bringing a real star-quality to the production.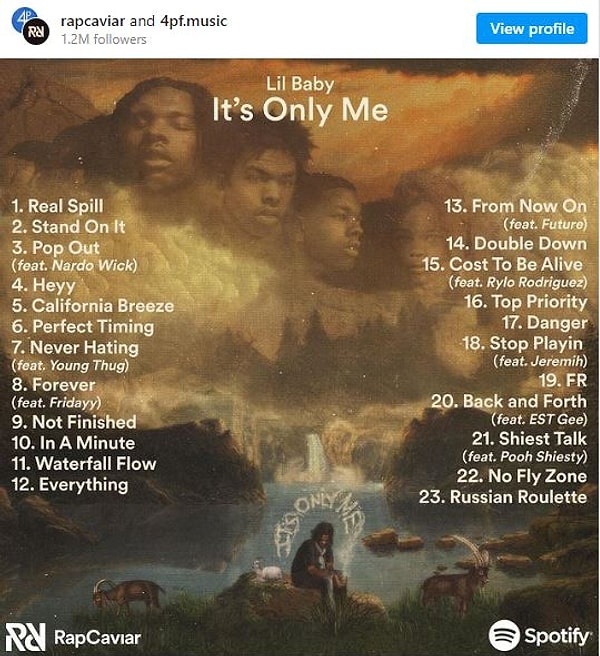 Previous Music
In the run up to this album, Baby released "Detox," last month. The track was released alongside a music video in early September and already has over 9 million views on YouTube. 
Lil Baby's last album was "My Turn," released in 2020, and went platinum in sales four times over. The project sold 97,000 copies and was the now 27-year old's most successful project of his career at that point.
Before that came the artist's debut album titled "Harder Than Ever," dropped in 2018. That project saw US the rapper announce himself on the world stage and gain major popularity.
Two of the songs from that album have been Lil Baby's most successful singles. The track "Yes Indeed" seeing the rapper perform alongside Drake and rise to sixth in the Billboard 200 in the USA.
"Drip Too Hard," featuring Gunna, did even better and ranked in fourth place in the US popular music charts.
The rapper will be hoping to beat those records with his new release.
Scroll Down for Comments and Reactions