News
Astronomers Observed Something Weird About 'Potentially Hazardous' Asteroid Phaethon
Astronomers Observed Something Weird About 'Potentially Hazardous' Asteroid Phaethon
The Arecibo Observatory discovered that asteroid Phaethon was doing something pretty weird. It's not surprising for it to be acting strangely, given that the asteroid already behaves more like a comet than an asteroid.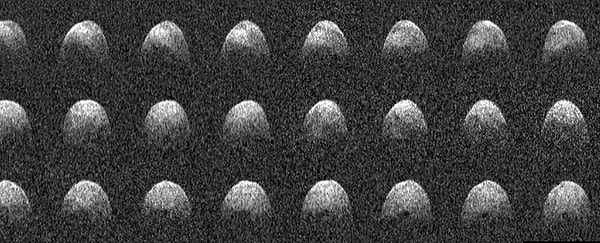 The asteroid is actually named after the son of the Greek sun god Helios, Phaethon. Researchers have just found out that the asteroid's spin speed has increased even more, and that is faster on its own axis. This might seem like a normal thing, but it is actually not a common thing for asteroids to be doing. Since Phaethon poses no imminent threat to Earth considering its size and distance from our planet, it is only classified as 'potentially hazardous.'
It is exceptionally rare for an asteroid to start changing its spin rate. At 5.4 kilometers wide, Phaethon is actually the biggest of the 11 known space boulders to do so. Its orbit is precisely known, which is the reason we know it doesn't pose a threat, and it spins once every 3.6 hours.
'The predictions from the shape model did not match the data", Arecibo planetary scientist Sean Marshall said. 'The times when the model was brightest were clearly out of sync with the times when Phaethon was actually observed to be brightest. I realized this could be explained by Phaethon's rotation period changing slightly at some time before the 2021 observations, perhaps from comet-like activity when it was near perihelion in December 2020.'
A closer examination of the entire data, which spans from 1989 to 2021, indicated that the change could've been clarified by a progressive, constant acceleration, which results in a loss of 4 milliseconds of rotation period annually. Year after year, the difference is minor, yet as the decades pass, it becomes increasingly noticeable.
'This is good news for the DESTINY+ team,' Marshall said. 'A steady change means that Phaethon's orientation at the time of the spacecraft's flyby can be predicted accurately, so they will know which regions will be illuminated by the Sun.'
So much research will be needed in order to determine what's really causing Phaethon's spin rate to change so strangely, though simply recognizing that it is shifting and at what rate is an awesome finding on its own. That being said, don't stop that weird spinning Phaethon, scientists need more information.
Scroll Down for Comments and Reactions