News
Adidas End Business With Kanye West Following Controversy
Adidas End Business With Kanye West Following Controversy
Adidas has ended its partnership with the rapper and producer Kanye West, now known as 'Ye,' after the hip hop star's recent controversial comments.
The German sportswear company described West's comments as 'unacceptable, hateful, and dangerous.'
The clothing brand has faced many calls to end their relationship with West following a number of interviews with the star have seen him make controversial comments.
West also made remarks on social media, all of which have seen the stock price of Adidas plummet as they appeared to make no move to end their professional agreement with West, who has changed his legal name to Ye.
Most of the controversy has stemmed from several antisemitic remarks the musician and fashion designer has made.
West recently had his accounts on the social media platforms Instagram and Twitter restricted over posts which the platforms said violated their policies.
On Tuesday, Adidas said it was going to end production of its Yeezy branded products, designed by Kanye West, with 'immediate effect.'
This news came in a statement released by the global sportswear brand.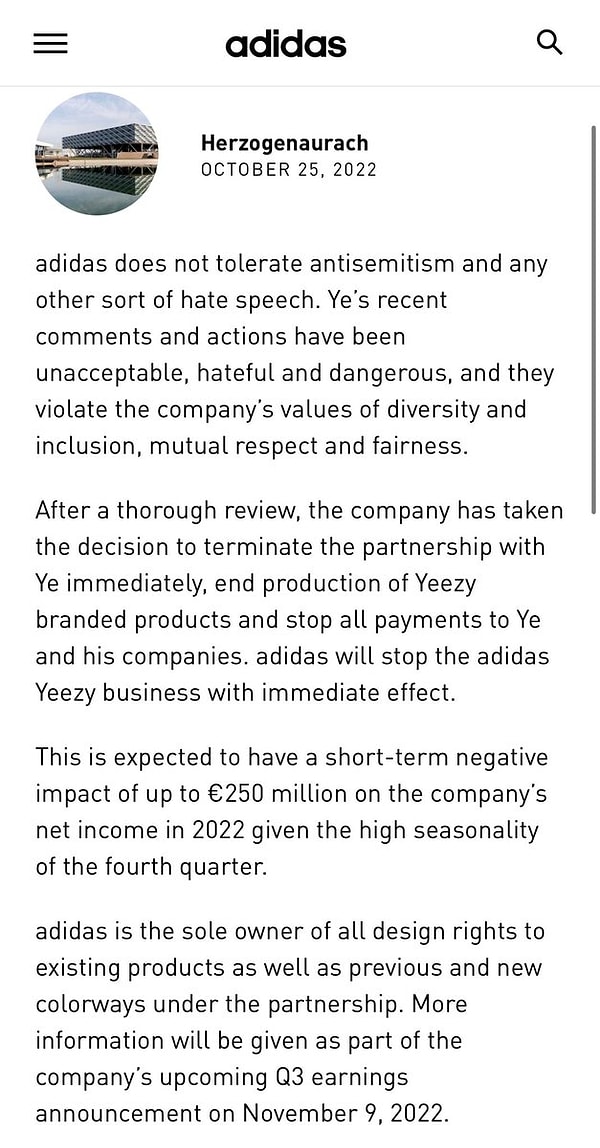 'Adidas does not tolerate antisemitism and any other sort of hate speech. Ye's recent comments and actions have been unacceptable, hateful and dangerous, and they violate the company's values of diversity and inclusion, mutual respect and fairness,' the company said.
'After a thorough review, the company has taken the decision to terminate the partnership with Ye immediately, end production of Yeezy-branded products and stop all payments to Ye and his companies. Adidas will stop the Adidas Yeezy business with immediate effect.'
The company explained that its decision was expected to have a negative impact of up to 250 million euro on its income in 2022, as the fourth quarter approached.
It explained however, that it remains 'the sole owner of all design rights to existing products as well as previous and new colourways under the partnership.'
Adidas are not the only company to drop their association with West in recent times.
Italian fashion brand Balenciaga cut ties with West last week following his controversial remarks, as well as his public criticism of the brand.
The star, who is in the midst of a divorce with reality star Kim Kardashian, was criticized for donning a 'White Lives Matter,' top earlier this month at a Paris fashion show.
West is reported to be a billionaire but his recent comments may lose him a lot of money yet.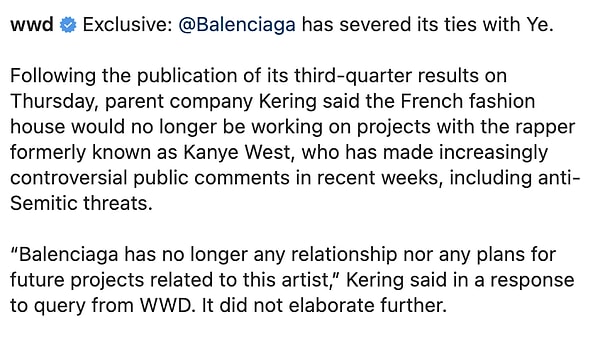 Scroll Down for Comments and Reactions