News
Adam Sandler Stars on the 2022 Sports Drama Film 'Hustle': Release Date and More
Adam Sandler Stars on the 2022 Sports Drama Film 'Hustle': Release Date and More
'Hustle' is an upcoming American sports drama film directed by Jeremiah Zagar, from a screenplay by Taylor Materne and Will Fetters. It follows a washed-up basketball scout who discovers a phenomenal street ball player while in Spain and sees the prospect as his opportunity to get back into the NBA.The film stars Adam Sandler, Queen Latifah, Ben Foster, and Robert Duvall.
'Hustle' Release Date
'Hustle' is scheduled to release in select theaters on June 3, 2022, and on Netflix on June 8, 2022. It was supposed to come out on June 10th, but it was pushed back two days.
'Hustle' Trailer
The official trailer for the film 'Hustle' is available on YouTube for you to have a glimpse of the film's notable scenes. We also made it available for you here.
'Hustle' Storyline
After being dismissed, professional basketball scout Stanley Beren is overjoyed for the first time in a long time when he happens upon Spanish amateur baller Bo Cruz playing in a park outside of Madrid. With a new sense of purpose, Stanley sets out to prepare Bo for the NBA, believing that they can both succeed.
'Hustle' Cast
The film includes Adam Sandler as Stanley Sugarman, Queen Latifah as Teresa Sugarman, Stanley's wife, Ben Foster as Stanley's boss Robert Duvall, Juancho Hernangómez as Bo Cruz
Jordan Hull, María Botto as Paola Cruz, Bo's mother, Ainhoa Pillet, Kenny Smith, Silas Graham,
Lenjo Kilo, Marcus Delpeche, Malcolm Delpeche, Raúl Castillo as Oscar, Jaleel White, and Heidi Gardner. 
The teaser also features NBA stars Boban Marjanovic, Anthony Edwards, Trae Young, Jordan Clarkson, Khris Middleton, Aaron Gordon, Kyle Lowry, Seth Curry, Tobias Harris, Tyrese Maxey, and Matisse Thybulle.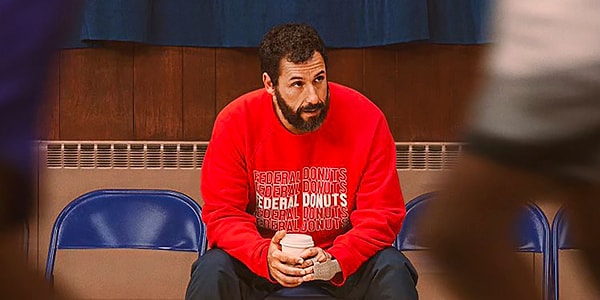 'Hustle' Showrunners
'Hustle,' the latest picture under Adam Sandler's overall Netflix production deal, starring and produced by him. Stanley 'Sugarman' Beren, played by Sandler, is a fictional Philadelphia 76ers scout whose career is dependent on Spanish player Bo Cruz, played by real-life NBA standout Juancho Hernangomez.
LeBron James and his SpringHill Entertainment company, as well as Roth/Kirschenbaum Films and Adam Sandler's Happy Madison production company, are producing 'Hustle.'
Are you looking forward to watching Adam Sandler's sports drama film 'Hustle' on Netflix? Let us know your thoughts in the comment section below.
Scroll Down for Comments and Reactions