5+ Companies that "Dumped" Kanye West: Issue Regarding the Rapper's Antisemitic Comments
News
>
5+ Companies that "Dumped" Kanye West: Issue Regarding the Rapper's Antisemitic Comments
Kanye West, whose real name is Ye, was born on June 8, 1977, in Atlanta, Georgia, the United States. He is an American producer, rapper, and fashion designer who used the success of his production work in the late 1990s and early 2000s to launch a successful solo music career.
It is beyond a doubt that no matter how many times he changes his name, people will still know him for having influenced an entire generation of musicians. He was included in Time Magazine's 2016 list of the 30 Most Influential People on the Internet.
Drama-Rama: What Caused the Partnership Dumps?
Ye, the rap star and businessman also known as Kanye West, appeared for photos during Paris Fashion Week wearing a 'White Lives Matter' T-shirt in the beginning of October. Then he started a protracted string of conspiracy-theorizing and antisemitic statements on several forums. As a result, Ye's numerous enterprises and other brand connections have severed their relationships with him.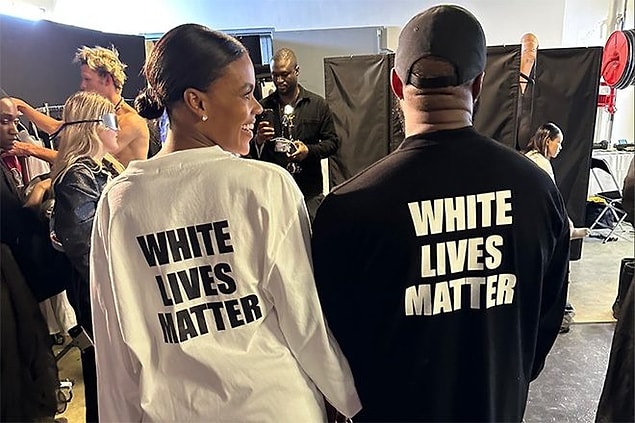 In addition, Ye, 45, apparently made allusion to the U.S. military readiness scale known as DEFCON on October 8 when he tweeted that he will soon go 'death con 3 on JEWISH PEOPLE.' (DEFCON 1 is the maximum degree of alert and is only used in nuclear engagement; DEFCON 5 is a position appropriate for peacetime).
Following the comment, Twitter and Instagram suspended his accounts; however, after West posted on Instagram a few weeks later, his account is again unlocked. Ye then appeared on several TV stations to explain himself, only to reiterate his claim (Ye has been trying to acquire Parler, a much smaller social media platform favored by conservatives due to its lax content moderation measures). He stated, 'This is not hate speech; this is the reality,' to Chris Cuomo of NewsNation's 'Cuomo.'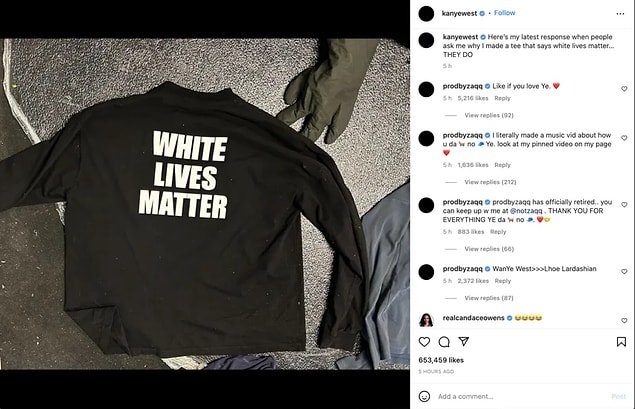 The Goyim Defense League, an anti-Semitic organization, gathered on October 22 at a 405 Freeway overpass in Los Angeles. A banner reading 'Kanye is right about the Jews' was reportedly hung by the group, and some members gave the Nazi salute.
Immediately after the group was identified, authorities condemned them, and California Governor Gavin Newsom tweeted: 'This weekend's anti-Semitic protests in LA were abhorrent and cannot be normalized or brushed aside. Words count.'
Brands who cut ties with Kanye
Gap
Midway through September, before the entire Paris Fashion Week debacle and after lambasting the retailer on Instagram, Ye sent Gap notice that he was terminating their deal. This forced Gap to cancel a 10-year deal to market Yeezy clothing that was signed back in 2020.
JPMorgan Chase
Ye's bank, JPMorgan Chase, required him to switch his accounts by November 21 or face penalties.
On October 12, conservative commentator Candace Owens claimed that Ye had been 'kicked out' by JPMorgan Chase Bank after the pair posed in a 'White Lives Matter' shirt in Paris. With the subject line 'IMPORTANT: Closing of Our Banking Relationship,' she also attached a redacted letter. They sent this letter to indicate that he had until late November to locate a new bank for the Yeezy enterprise, though Owens claimed there was no formal explanation provided.
Def Jam
After the release of 'Donda' in August 2021, Ye's 10-album deal with Def Jam came to an end. The rapper is now a free agent, according to a source familiar with the agreement who verified it to The Times on October 16. Getting Out Our Dreams (G.O.O.D.) releases from the rapper are supposedly no longer being distributed by the label.
CAA
The talent agency CAA cut ties with Ye this month as a result of his recent anti-Semitic rants in several interviews, according to an article in The Times on October 24. The rapper was exclusively represented by CAA for his touring, and since contracting with them in 2016, he had not gone on tour.
In a different statement, Ari Emanuel, the CEO of the talent agency WME, urged Spotify and Apple to deplatform West. He called on Parler to stop selling the platform to the singer and encouraged Adidas to cease its partnership with Ye.
Balenciaga
On October 21, the fashion house severed ties with West, who had walked in its Paris Fashion Week show the day before he made his 'White Lives Matter' fashion statement. West has previously worked with and been inspired by Balenciaga and its creative director, Demna, who also 'designed' his Yeezy Gap collaboration.
The parent company of the brand, Kering, issued a brief statement saying, 'Balenciaga has no longer any affiliation with this artist nor any plans for future ventures associated with this artist.'
Adidas
Adidas, which worked with Ye on the Yeezy shoe collection and was under criticism on social media and elsewhere, was alarmed by Ye's remarks at his Paris Fashion Week show and soon thereafter. Later that week, the business released a statement that read, 'After several attempts to quietly settle the matter, we have decided to place the partnership under review.'
On Instagram, the entrepreneur-rapper replied, 'F— Adidas I AM Adidas Adidas Rapped and Stole MY Designs.'
Foot Locker
Foot Locker followed suit made by Gap, announcing in a statement that it has told store managers to remove any remaining Yeezy merchandise from the shelves and online stores.
T.J. Maxx
The chain of discount shops T.J. Maxx is owned by TJX Companies. Several retailers, including Maxx, Home Goods, and Marshalls, said on October 26 that they had ceased purchasing excess Yeezy merchandise.
'At TJX, we do not accept any form of prejudice, harassment, or hatred. We have told our purchasing departments not to buy this product for any of our locations worldwide, the company stated in a statement to CNNBusiness.
Without a doubt, Ye's billionaire position and standing as the world's richest artist and the richest rapper alive are the result of numerous brands. But the rapper is also renowned for his outrageous behavior.
Ye's name has been removed from Forbes' list of the richest people as a result of the brands terminating connections with him. He was evaluated at $2 billion in the yearly report on billionaires published by the American business magazine in April. The rapper's net worth was estimated by Forbes to be $1.5 billion, meaning that without the Adidas agreement, Ye is only worth $400 million.