What is Nicki Minaj's Baby's Name?
News
>
What is Nicki Minaj's Baby's Name?
Onika Tanya Maraj-Petty. Quite a long name, isn't it? If you're wondering if that is really Nicki Minaj's real name, yes, it actually is!
Nicki Minaj is a Trinidadian rapper, singer, and songwriter. She is of a different nationality but her music is mostly famous in the US and even in other countries around the world. She is also known for being a versatile artist and having a wide range of flow and lyricism in her music. She is "spitting bars", just like how some people call it. Here are a few interesting things about Nicki Minaj:
Her hit single "Super Bass" (2010) is credited for being the highest charting female rap solo since 2002 when it reached top three on the US Billboard Hot 100.

She has gained the titles "Queen of Rap" and "Queen of Hip Hop" by various music outlets.

Minaj is known for having a unique flow in her songs and using a variety of accents.

She once autographed women on their breasts to empower them.

She revealed that she was once bisexual but is now hetero.
Nicki Minaj's life is interesting and there are a lot of things that we should know about her. But for today, let's take a look at her personal life and the new addition to her family.
Past Experiences, Relationships, and Sexuality
We have to understand that while Nicki lives a glamorous life now, she is just like any other person out there who has their fair share of regrets and mistakes. In some reports, Nicki admitted to have had an abortion when she was just a teenager through her song "All Things Go".
In 2010, she also admitted to be bisexual, but faced criticisms in 2020 when she sang the lyric "[I] used to be bi, but now I'm just hetero" in her song with Doja Cat.
As for her relationships, Nicki had a somewhat colorful dating life. She started dating Jamaican-American Rapper Safaree Samuels in 2003. The couple had a good run but ended their 11-year relationship in 2014. That's even longer than some Hollywood marriages! She then dated Meek Mill in 2015 but announced their split in 2017.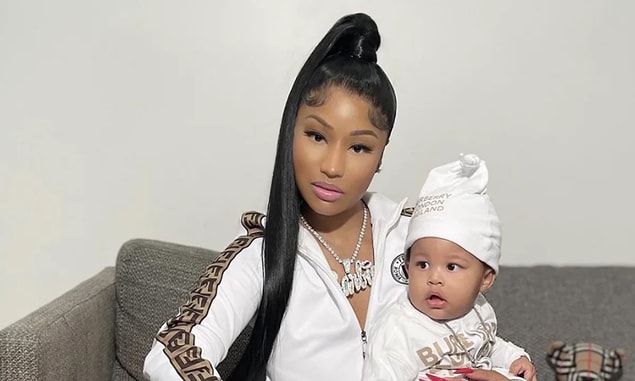 "Petty" Marriage
Having gone through her other relationships, Nicki Minaj might have just found true love. In 2018, Minaj started dating her childhood friend Kenneth "Zoo" Petty. Just a year later, the two applied for a marriage license in August 2019 and got officially married on October 21 of the same year.
Papa Bear
A little shy of a year later, Minaj and Petty announced that they were pregnant in July 2020! The public went wild when Minaj shared the news that she gave birth on September 20, 2020 to their son.
Up until today, the public does not know the real name of Minaj and Petty's son. They only address him as "Papa Bear" on their Instagram posts and when they talk about him in public. Nicki's loyal fans, Barbz, also gave their own nickname to her son and they fondly call him "Simba". But for the record, some fans think that the baby's name is "Isaiah" or "Isiah" after hearing Nicki talking to her baby on Tiktok went viral.
What do you think is the baby's real name?