News
WCW Launches Nicole Kidman in 'The Stepford Wives' (2004)
WCW Launches Nicole Kidman in 'The Stepford Wives' (2004)
In case you weren't aware, The Stepford Wives (2004) is now available on HBO Max, having been added to its movie listing on the first day of the month. 
And since it's Woman Crush Wednesday, I decided what the heck! Let me acknowledge Nicole Kidman's great accomplishments throughout her acting career. 
I grew up watching Kidman in her old school movies such as Far and Away, Bewitched (my favorite), Eyes Wide Shut, Practical Magic, Moulin Rouge, Birthday Girl and The Stepford Wives among others. Not only was Kidman a Hollywood legend, but she became my idol.
Briefing of Nicole Kidman's Achievements
You can't put a label on the star's accolades. You would need a gigantic wall to place all her awards. Kidman boasts six Golden Globe Awards, a British Academy Film Award, two Primetime Emmy Awards and an Academy Award. She has also received a plethora of other awards from different critics' associations. In total, Kidman has 109 wins, yikes!
So coming to the movie, The Stepford Wives is a comedy sci-fi film directed by Frank Oz and written by Paul Rudnick. It is a second film adaptation of the 1972 novel of the same title by Ira Levin, following the 1975 version.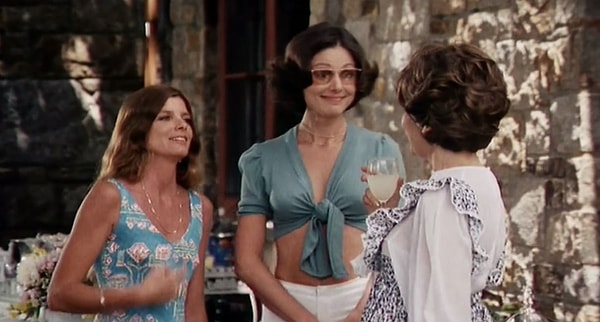 Movie Info
After a sudden flop in her career at a television network, Joanna Eberhart (Nicole Kidman) moves from New York City to the Connecticut suburb of Stepford with her husband Walter (Matthew Broderick) and their two kids. 
Joanna and the two friends she made from the community, Bobbie Markowitz (Bette Midler) and Roger Bannister (Robert Bart), begin to notice odd characteristics portrayed by the wives of Stepford. They soon begin to investigate, but Joanna is left on her own after her friends are converted into flawless mindless robots by the men's association. It's up to her to uncover the truth.
How does 'The Stepford Wives' (2004) Rate?
Though The Stepford Wives (2004) is considered a flop, I beg to differ, and so does 75% of the audience who liked the film. The movie has its dark humor moments, and I'm a sucker for such. I also particularly love the ensemble cast, including Glenn Close, Christopher Walken, and Jon Lovitz, adding to the ones already mentioned above. 
Since the film is deemed a less appealing remake of the 1975 adaptation, it could be worth looking into the previous version to see which one tickles your fancy.
Scroll Down for Comments and Reactions