News
There's A New Dance Competition Show in Town! Shakira's 'Dancing with Myself'
There's A New Dance Competition Show in Town! Shakira's 'Dancing with Myself'
Shortly after NBC's America's Got Talent season 17 landed on May 31, came the television network's newest reality series Dancing with Myself, created and executive produced by the queen of hip knocking moves Shakira. 
Dancing with Myself sees a group of contestants competing each week in a series of intensive dance challenges choreographed by Shakira, joined by Nick Jonas, Liza Koshy and host Camille Kostek.
Here's the first look video:
'Dancing with Myself' Premiere Season Panel
The worldwide entertainer Shakira inarguably joins the show's panel of judges. Next up is the youngest of the Jonas Brothers, Nick Jonas. I can't say that I've seen Nick dance before, but the show may prove me wrong. 
Rounding up the panel is Liza Koshy. You may recognize Liza from the dance movie Work It, released in 2020. She is also a YouTube personality known for her fun-based comic content. In 2019, Liza was ranked as one of the 25 Most Influential People on the Internet in Time Magazine.
The show's host Camille Kostek is an actress and model who also hosts the Wipeout show.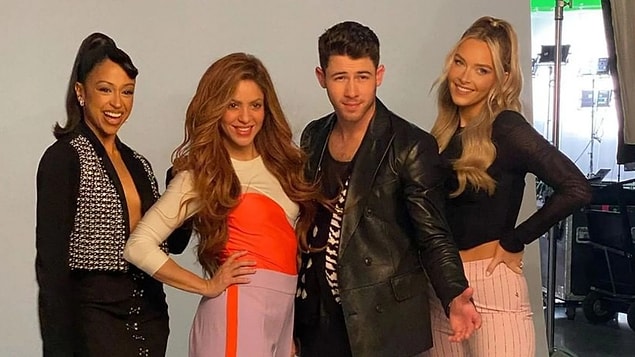 The Premiere Episode
The premiere episode saw two elimination survivors, Tyra Polke and Smac McCreanor, going head-to-head, showing off their original choreographies to the song 'Shut Up and Dance' by Walk the Moon.
Tyra amazed the audience with high energy dance moves, rounded up with back tucks and death drops. Smac was equally amazing with her creative incorporation of physical comedy into her choreography. 
Eventually, Tyra emerged the winner, taking home the $25,000 prize money.
Second Episode Premiere
With an episode running for 45 minutes, I could say that Dancing with Myself is off to a great start. Its second episode will air on Tuesday, June 7, on NBC and will be available for streaming the following day Wednesday, June 8, on Hulu and Peacock Premium.
Scroll Down for Comments and Reactions