News
The Lovable Yellow-Colored Minions Invade Netflix This February
The Lovable Yellow-Colored Minions Invade Netflix This February
Make way for these lovable and cute yellow colored Minions conquering Netflix with their wacky and high-spirited movies 'Despicable Me' and 'Despicable Me 2' on February 1st!
About 'Despicable Me' and 'Despicable Me 2'
'Despicable Me' is a computer-animated media franchise produced by Illumination Entertainment and distributed by its parent company Universal Pictures. 
The franchise began with the 2010 film of the same name, which is tagged along with two sequels: 'Despicable Me__ 2' (2013) and 'Despicable Me__ 3' (2017); and two spin-off prequels: Minions (2015) and the soon to be released 'Minions: The Rise of Gru' (2022). 
 At the 86th Academy Awards, 'Despicable Me 2' was nominated for Best Animated Feature and Best Original Song for 'Happy'. The film was also recognized as the most profitable film in the 101-year history of Universal Pictures.
Despicable Me - Theatrical Trailer
'Despicable Me': The Beginning
In a jovial suburban neighborhood surrounded by white peg fences with flowering rose bushes, rise a black house with a lifeless lawn. Unbeknownst to the neighbors, concealed underneath this house is a huge secret hideout.
Encompassed by a small army of minions, there's Gru (Steve Carell), planning the prodigious heist in the history of the world. He is going to steal the moon.
Gru captivates in all things wicked. Armed with his arsenal of shrink rays, freeze rays, and battle-ready vehicles for land and air, he slaughters all who stand in his way. Until the day he encounters the ginormous will of three little orphaned girls who look at him and discern something that no one else has ever seen: a prospective Dad.
The world's greatest villain has just met his whopping challenge: three adorable little girls named Margo (Miranda Cosgrove), Edith (Dana Gaier), and Agnes (Elsie Fisher).
Despicable Me 2 - Official Trailer
'Despicable Me 2': Super Bad Turns Super Dad
While Gru, the ex-supervillain is adapting to family life and strived an upfront living, a secret Arctic laboratory is stolen. The Anti-Villain League felt the necessity of an insider's help and recruits Gru in the scrutiny.
Together with the peculiar AVL agent, Lucy Wilde, Gru infers that his prime suspect is the presumed deceased supervillain, El Macho, whose his teenage son is also making the moves on his eldest daughter, Margo.
Purportedly dazzled by his over safeguarding of his children and his growing reciprocated fascination to Lucy, Gru seems on the wrong course even as his minions are being soundlessly kidnapped for some malicious motive.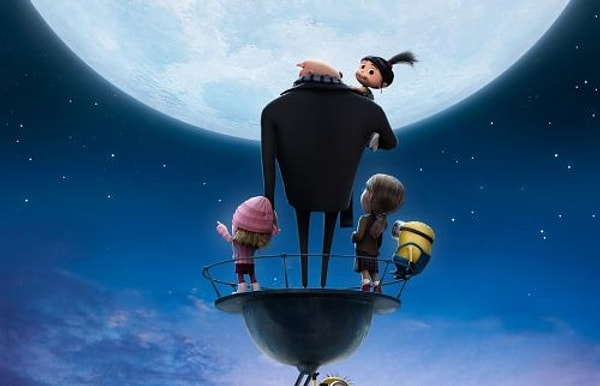 The Voices Behind The Characters
The movie stars the voices of Steve Carell as Gru, Kristen Wiig as Miss Hattie, Benjamin Bratt as El Macho, Miranda Cosgrove as Margo Gru, Russell Brand as Dr. Nefario, Ken Jeong as Floyd Eagle-san, Elsie Fisher as Agnes, Dana Gaier as Edith, Nasim Pedrad as Jillian, Kristen Schaal as Shannon, Chris Reanud as Dave the Minion and Pierre Coffin as Bob the Minion, Tim the Minion and Evil Minions.
'Despicable Me' and 'Despicable Me 2' are under the Direction of Chris Renaud and Pierre Coffin and written by Cinco Paul and Ken Daurio. 
Are you excited about the arrival of the two Minion movie series on Netflix? Let us know through your comments.
Scroll Down for Comments and Reactions