News
The Legal K-Drama Series 'Juvenile Justice' Debuts On Netflix On February 25th
The Legal K-Drama Series 'Juvenile Justice' Debuts On Netflix On February 25th
Juvenile Justice is an upcoming South Korean streaming television series directed by Hong Jong-chan, it stars Kim Hye-soo, Kim Mu-yeol and Lee Sung-min. The series is about a new judge in town who is not fond of the kids who come into her courtroom.
With judges who sharply clash because of their individual beliefs, writer Kim Min Seok, sought to 'convey multiple views and opinions about juvenile criminals through four judges' to let viewers look at juvenile offenses from different viewpoints.
'Juvenile Justice' Release Date And Trailer
The first official teaser for Juvenile Justice, Netflix's next legal K-drama series, has been revealed. The one-minute teaser follows judge Sim Eun-Seok (Kim Hye-soo from Hyena) as she oversees a juvenile court, where the cases she oversees become increasingly hostile.
'Juvenile Justice' will be streaming its season debut on Netflix on February 25.
Juvenile Justice | Teaser Trailer | Netflix
'Juvenile Justice' Plot Summary
Sim Eun Seok (Kim Hye-soo from Hyena)  is an elite judge with a prickly personality who hates juvenile offenders. She aims to incorporate her dislike of small offenders with her firm ideas on justice and punishment by going out of her way to disobey the law and administer her own means of punishing the offenders after being assigned to a local juvenile court.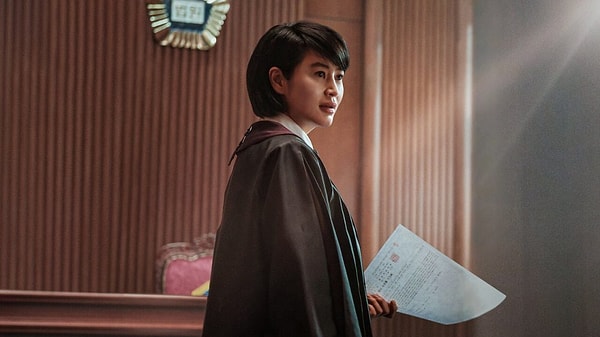 'Juvenile Justice' Cast
'Juvenile Justice' centers on Sim Eun-Seok. As she confronts complex cases while learning what it means to be an adult, she must balance her dislike of small offenders with her firm ideas on justice and punishment.
Kim Hye Soo plays Shim Eun Seok, a judge in the juvenile court of the Yeonhwa District. In addition to having attractive eyes, she also has a harsh personality that is haughty in its own right.
Kim Moo Yeol plays a judge named Cha Tae Joo who conquered the hardships of a poor environment and became a judge after taking the high school qualification exam (the Korean equivalent of a GED).
Lee Sung Min has transformed into the charismatic Kang Won Joong. He is a chief judge who values customs and principles.
Lee Jung Eun plays chief judge Na Geun Hee who has a soft way of speaking, but she has an icy, fierce personality.
Are you excited to watch the coming of 'Juvenile Justice' on Netflix? Let us know through your comments below.
Scroll Down for Comments and Reactions