News
'The Big 4' is Netflix's Newest Indonesian Project: What is it About?
'The Big 4' is Netflix's Newest Indonesian Project: What is it About?
The gigantic streaming platform has been launching films back to back to keep its fan base entertained this holiday. 
The Big 4 is the newest addition to the streamer, a crime and action-comedy film directed by Timo Tjahjanto. 
Netflix has also released the movie's official trailer and more storylines ahead of its mid-December premiere.
What's 'The Big 4' About?
The Big 4 is an upcoming Indonesian action-comedy revolving around four retired assassins brought back into the business to track down a murderer always on the move. A female detective joins hands with the four retired assassins to find the person behind her father's death. 
The crew embarks on an investigative mission, following even the pettiest clues till they land on a tropical island only to find the detective's father is the leader of a group of assassins. 
To overcome her father's enemies, the detective incorporates four of his father's ex-trainees, The Big 4 and dives deep into the mission.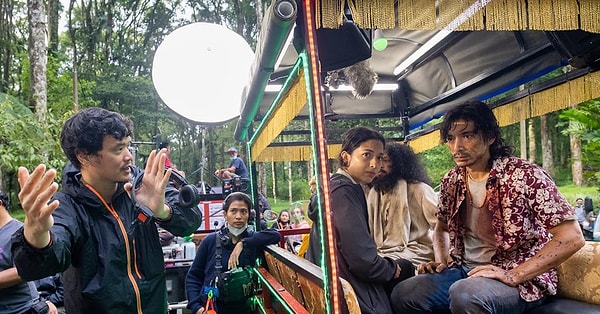 What's in the Trailer for 'The Big 4'?
It's been roughly two weeks since Netflix uploaded the official trailer for The Big 4 to offer more descriptions ahead of the grand release. In 2 minutes and 34 seconds, the trailer introduces the four assassins alongside their leader's daughter, the detective. 
When the assassin leader gets murdered, his daughter is forced to join hands with his father's ex-trainees in search of the killer. The Big 4 navigates through discoveries, explosions, and war as the defending crew encounters some of their leader's enemies.
Who Produces 'The Big 4'?
The Big 4 is written, produced, and directed by Timo Tjahjanto, with Johanna Wattimena on the screenplay. 
The film's producers are Wicky V. Olindo, Tjahjanto, Chali Sakyan, and Daiwanne P. Ralie. Frontier Pictures is the production company behind the movie's success.
Who Casts 'The Big 4'?
The above team incorporated several actors into the cast list, including Abimana Aryasatya as Topan, Arie Kriting as Jenggon, Putri Marino as Dina, Kristo Immanuel as Pelor, Michelle Tahalea, Marthino Lio, and Donny Damara. Lutesha as Alpha and Budi Ros also appear in the film.
When is 'The Big 4' Coming Out?
The Big 4 will premiere on Thursday, December 15th 2022, as a 2-hour and 21-minute movie. 
The film will be available in the Indonesian language with subtitles.
Scroll Down for Comments and Reactions