News
The Action-Thriller Film 'The Burning Sea' (2021) Comes to Hulu
The Action-Thriller Film 'The Burning Sea' (2021) Comes to Hulu
The Norwegian action thriller movie The Burning Sea is now available for streaming on Hulu, having been added on Thursday, June 23 2022. 
The 1 hour and 44 minutes film initially debuted on October 29 2021, in Norway, accumulating a rating of 6.3/10 on IMDb, 71% on Rotten Tomatoes and a 47% Metacritic score.
'The Burning Sea' Plot
Based in 1969, The Burning Sea kicks off with the Norwegian government announcing its discovery of one of the world's largest oil mines in the North Sea, starting an offshore drilling project. 
Five decades in, the environmental ramifications of the oil mining begin to surface, including a crack on the ocean floor that causes the rig to collapse.
A crew of investigators, including submarine operator Sofia, goes to research the cause of the damage and search for the missing experts. They discover that the one event is just the beginning of a potential apocalyptic sequence. 
As the rig operators are evacuated, Sofia's boyfriend Stian gets trapped on the ocean floor, and Sofia must go in after him. 
The Burning Sea is the latest instalment in the environmental catastrophe films from the crew behind The Quake (2018) and The Wave (2015).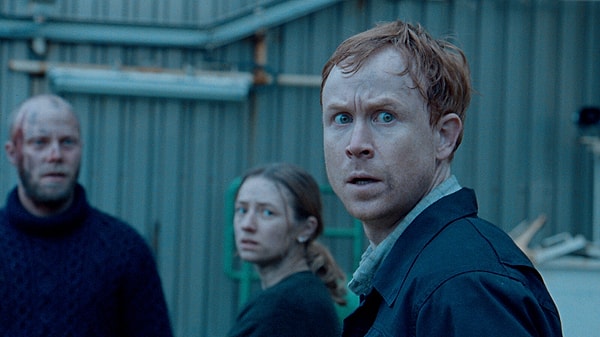 The Cast and Crew
The film's cast members include Kristine Kujath Thorp as Sofia, Henrik Bjelland as Stian, Rolf Kristian Larsen as Arthur, Anders Baasmo as Ronny, Bjørn Floberg as William Lie, Annake von der Lippe as Gunn, Christopher Staib as Steiner Skagemo, Ane Skumsvoll as Berit, Cengiz Ali as Jasin and Nils Elias Olsen as Odin.
The Burning Sea is directed by John Andreas Anderson and written by Harald Ronsenløw-Eeg and Lars Gudmestad.
Scroll Down for Comments and Reactions