Sophie Allison Adds Some Dreamy Noise Into Soccer Mommy's New Album 'Sometimes, Forever'
News
>
Sophie Allison Adds Some Dreamy Noise Into Soccer Mommy's New Album 'Sometimes, Forever'
Since the first collection of Soccer Mommy songs came out on Fat Possum Records in 2017, songwriter Sophie Allison has routinely turned out studio albums that continue to develop her remarkable skills. With Sometimes, Forever, Soccer Mommy's third album, Allison proves that she cannot get a miss with the critics. Each has generated a higher Metacritic score than before, with this newest record currently sitting at 84/100. Here's the lowdown on this exceptional indie group.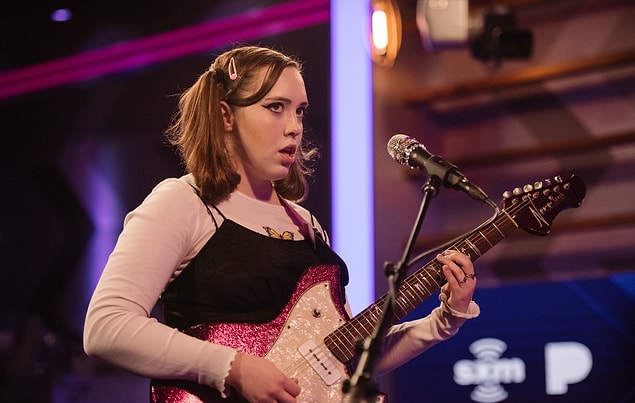 Starting as a bedroom pop project, Soccer Mommy's albums quickly turned to the allure of lush indie pop with better exposure, studio access, and time spent together as a band. Sometimes, Forever delves the most into dream pop textures than ever before, after the last Soccer Mommy album (Color Theory) began introducing a wider expanse of sound into Allison's poignantly written songs. The shoegaze wall of sound is a newer addition to the Soccer Mommy style, but lead single 'Shotgun' wove in that classic 90s influence with admiration for the original sound. The third single, 'Bones,' hit the perfect balance between the sound fans loved on Color Theory and the developments to Allison's songwriting.
The Verdict on 'Sometimes, Forever'
Since Allison continues to progress her sound, the critics are satiated and fans will undoubtedly always have a fresh take on Soccer Mommy sound. Admittedly, Sometimes, Forever might not be the best way to introduce a new listener to the band; their first record, Clean, is more rooted in the stripped-down indie sound and the change from album to album is one of the most fascinating parts of the Sophie Allison journey. Whether a newcomer or longtime fan, this new Soccer Mommy record will appease almost all indie lovers out there.
Rating: 8/10
★★★★★★★★☆☆
Tracklist