'Shotgun Wedding' Parades Jennifer Lopez's Affinity for Wedding-Themed Films
Shotgun Wedding isn't an ordinary lovey-dovey rom-com film as it adds action seasoning, making a thrilling 100-minute watch. 
Prime Video released the trailer for the upcoming action rom-com earlier this month, introducing the leads Jennifer Lopez and Josh Duhamel alongside other familiar favorite faces. 
Read on for the deets on Shotgun Wedding ahead of its international debut.
'Shotgun Wedding' Storyline
Shotgun Wedding dramatizes the worst thing that could happen on one's special day when the delightful couple Darcy (Jennifer Lopez) and Tom (Josh Duhamel) decide to tie the knot on a dream island. 
Joined by their eccentric families and an ex-lover, the couple is about to walk down to aisle when things go awry. A group of uninvited masked guests hijack the party and wreak havoc. 
The about-to-be-married duo decide to take out the pirates themselves, doing unimaginable things from disarming live grenades in the wilderness, firing a shotgun from their car top to manhunting with a gift cake knife, just to savour their high-end destination wedding.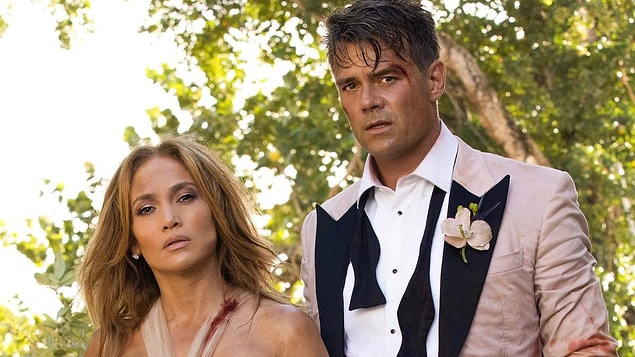 Who To Expect in 'Shotgun Wedding'
The renowned singer and actress Lopez, takes the lead role of Darcy, starring opposite gracefully-aged Josh Duhamel, who starred in the rom-com film Life as We Know It (2010) alongside Katherine Heigl. 
It wasn't a smooth journey landing on Duhamel as the male lead as Ryan Reynolds was initially slotted for the part, but he dropped out. Reynolds was replaced with Armie Hammer, who also exited the project because of assault allegations against him. Finally, Duhamel was cast in Hammer's place. Let's wait to see how his chemistry with the infamous diva pens out when the movie premieres. 
Other ensemble cast members include Award winner Jennifer Coolidge as Carol, Tom's mother, Sônia Braga, who played Samantha's lesbian lover on Sex and the City as Renata, Darcy's mom, Lenny Kravitz as Sean, Darcy's ex-boyfriend, Steve Coulter as Larry, presumably Tom's dad and D'Arcy Carden as Harriet, supposedly Darcy's sister or friend. 
More stars confirmed to feature in the film include Callie Hernandez, Cheech Marin, Desmin Borges, Melissa Hunter, Alex Mallari Jr., and Héctor Aníbal Alberto Isaac.
When Will 'Shotgun Wedding' Premiere?
Shotgun Wedding will head straight to Prime Video's catalogue on January 27 2023. The action rom-com was originally planned for a theatrical debut on June 29 2022, but plans deviated when Amazon Studios bought streaming rights to the movie in March 2022. 
Shotgun Wedding marks Lopez's knack for wedding-themed content as this is her third film riveting nuptials. She starred in the classic rom-com The Wedding Planner (2001) alongside Matthew McConaughey and quite recently in the film Marry Me (2022) alongside Owen Wilson.