'Sex and the City': Why Fans Think This Carrie's Ex Deserved Better
Carrie Bradshaw might have deserved better than the narcissistic John Preston aka, Mr Big on HBO's Sex and the City, but this awesome guy actually deserved better than Carrie.
Drum rolls, please! Yes, your guess is as good as mine. Aidan Shaw was the best boyfriend that Carrie ever had but he deserved way better than the inconsiderate selfish lead character.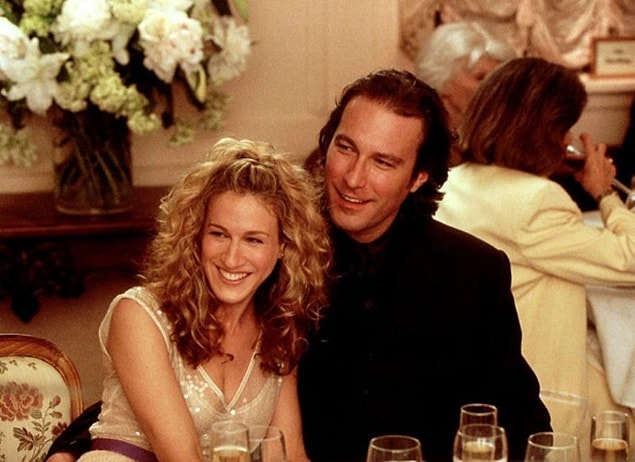 Fans Comments About Carrie and Aidan's Relationship
Ever since the Sex and the City reboot dropped on HBO Max in December last year, fans have been taking to Twitter to express their outrage for Sarah Jessica Parker's Carrie, particularly about her relationship with Aidan (John Corbett). 
One fan posted, "I remember Carrie & Big being my favorite couple in Sex and the City but now rewatching it's definitely either Miranda & Steve or Carrie & Aidan.'
Another remarked, 'I watched Sex and the City from start to finish, including the two movies and And Just Like That AND I'm not over Carrie and Aidan!! I'm still holding out hope for those two."
Several fans agree that Aidan was the best Carrie ever had and that she was plain stupid or simply cold-hearted to cheat on him with the obviously jerk Mr Big, and not once but several times.
Why Aidan Shaw Deserved Better Than Carrie
Carrie did unspeakable things at best and disastrous at worst while dating Aidan. As if cheating on Aidan wasn't enough, Carrie had the nerve to go back to ask him out again. 
But when Aidan lashes out, 'You broke my heart,' she plays the victim by running away, hurt. You'd think that as the cheating villain, she'd be more understanding.
Aidan's Proposal
Why didn't Carrie marry Aidan? When Aidan took Carrie back and went to extra lengths to propose to her, she said yes, but much to our dismay, stumped all over his heart again. 
Then why would Carrie say yes to his proposal if she wasn't serious about marrying Aidan? Why did she pursue him again in the first place? To pass time!?
Carrie at Aidan's Country Home
Seasons three and four of Sex and the City offer the most cringe-worthy packed episodes because of how selfish Carrie could be as a girlfriend. We know that Carrie is a diehard city girl, but there's a little thing called compromise in every healthy relationship. 
Rather than being proud of Aidan's country home, Carrie complains the entire time she's there, making him feel bad for dragging her to the country. To make matters worse along comes Mr Big to talk about his bad experience with some woman no one cares about, making Aidan feel uncomfortable and peeved in his own home.
Carrie Took Aidan for Granted
Carrie constantly snapped at Aidan for no reason. A notable illustration is when Carrie's laptop crashes, and she takes it out on Aidan, who tries to help and support her throughout. 
Admittedly, Carrie constantly took Aidan for granted, and these are only a few mentions of Carrie's callous attitude towards the most affectionate boyfriend she ever had.