News
7 Best AI Avatar Generators You Can Use To Generate Interesting PFPs
7 Best AI Avatar Generators You Can Use To Generate Interesting PFPs
AI-generated avatars are a rising social media trend. Some brands have also started to use AI-generated avatars for marketing. Regardless, suppose you're trying to have fun or experiment with different images, to create something interesting for your social media page. In that case, AI avatars are definitely a go-to. Here, we will highlight the top AI avatar generators you can use to bring your avatar fantasies to life.
1. Lensa AI
Lensa AI is undoubtedly one of the most popular image editing apps. It currently has over 10 million Playstore downloads and an average of 4.6 stars on the Apple Store. The app is an all-in-one photo and video editing app that lets you use filters, portraits, and editing features to generate your avatar. These avatars are called 'Magic Avatars,' and they are basically artistic generations of photos you upload. 
The app usually requires you to upload ten to twenty selfies so it can properly analyze your features. This way, the generated result can seem as authentic as possible. However, Lensa AI charges subscription fees for unique avatars. The subscription fees depend on how many avatars you intend to make. 
It's essential, however, to point out that some people have raised legitimate concerns about Lensa's terms of use. So, before agreeing, endeavor to skim through the terms of use. 
Download Lensa AI on Play Store and Apple Store.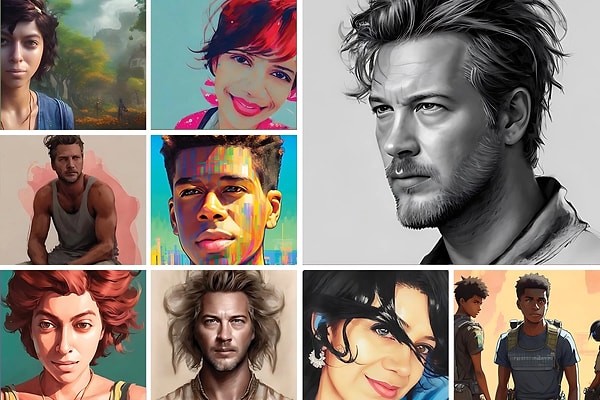 2. VOI- Avatar AI
Voi is an avatar AI generator created by Codeway Dijital. The app allows users to upload pictures and turn them into different avatar styles. Based on Voi's current offerings, you can experiment with hundreds of styles. Moreover, the app allows you to create over 120 avatars of yourself. Like Lensa, VOI is not free. To make your AI avatar with the VOI app, take the following steps:
Install the VOI app from Play Store or Apple Store

After installing the app, you will likely get a prompt to try different avatar styles. Tap the "Try Now" icon

Pay the subscription fee ($4.99 per week)

Upload your preferred photo(s) and create your avatars.
Voi - AI Avatar app by Wonder - quick overview
3. Dawn AI
Dawn AI is fast becoming a favorite for many users. This AI avatar generator stands out because it has an easily usable interface. It also uses the latest AI technology to create avatar replica versions of images. So, you can be sure that generated results will likely be high-quality. Plus, the numbers don't lie. Dawn AI currently has over 5 million downloads on Playstore, with an average of 4.7 stars on the  Apple Store. To start:
Install the app

Open Dawn AI and upload at least eight photos from your gallery

Tap the "Create" icon and wait patiently for the avatars to be released
While Dawn has a paid option, you can mostly create avatars for free.
4, Wonder- AI Art Generator
Wonder AI is one of the top AI generators currently on the market. It enables the creation of digital works and provides features to help users generate avatars. The app also has this really cool feature that lets you scribble a text, after which the AI generates artwork off the text. Its download count on Play Store is currently about 5 million and counting. You can also get it on the Apple App Store.
WONDER AI Art Generator - Top Quality Renders, Fast & Cheap (iOS/Android)
5. Prequel AI Art Avatar Editor
Prequel is available on both Play Store and Apple Store. The app helps you generate unique avatars with AI effects and preset on your images. It also provides many other filters you can use on your picture. Prequel is currently among users' favorites, with about 10 million downloads on Playstore and counting. To use the Avatar effect on Prequel,
Install the application 

Type "AI Effects" in the search bar. You will likely see numerous avatar styles displayed

Select your preferred avatar style. 

Tap "Use Preset" and select the picture from your gallery

Wait for the app to import the image and make the effects

Download your avatar or share it with your friends
6. Artflow
Artflow is a website that generates AI avatars. However, Artflow mainly generates avatars based on your imagination and pre-existing people. For instance, you could type that you need an avatar of a purple Thor, and you will get precisely that. This is why your descriptions need to be as accurate as possible. Regardless, if you merely want to play around with the possibilities of different characters, Artflow is a perfect option.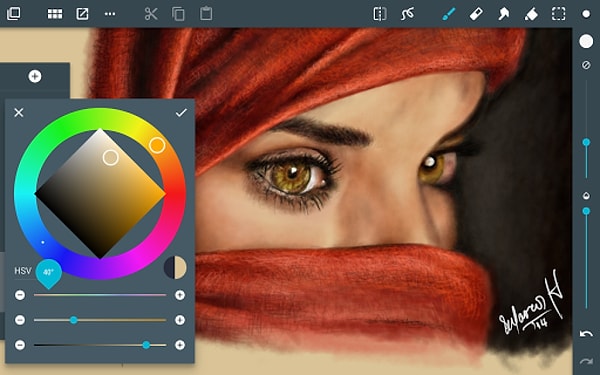 Media.io
Media.io is another AI avatar generator website. It transforms your photos into avatars for free and provides you with many avatar styles. Media.io has a pretty simple interface. All you need to do is visit the website, upload your image, and get your results almost immediately. Because Media.io is powered by state-of-the-art AI technology, you will rarely have to worry about getting quality results. Data privacy and protection are legitimate concerns with all AI avatar generators, but Media.io erases users' data within 24 hours. That way, your data is safer, and there are minimal chances that your photos will be compromised.
Scroll Down for Comments and Reactions