News
Romeo and Juliet Spinoff "Rosaline" Set to Premier on Hulu This October
Romeo and Juliet Spinoff "Rosaline" Set to Premier on Hulu This October
Shakespeare's Romeo & Juliet will have 'a fresh and hilarious twist' in Disney+'s 'Rosaline,' which will start streaming on October 14.
The story of the romantic comedy from 20th Century Studios is portrayed from the viewpoint of Rosaline, Romeo's current love interest and Juliet's cousin (Kaitlyn Dever). Rosaline hatches a plan to thwart the well-known romance and get her boyfriend back after she is devastated when Romeo (Kyle Allen) meets Juliet (Isabela Merced) and starts to pursue her.
"Rosaline" Storyline and Trailer
Rosaline, a new adaptation from Hulu and 20th Century Studios, adds a modern spin to the timeless Romeo and Juliet story. The official trailer for the film has been made available ahead of its premiere next month.
Viewers already get a humorous glimpse of Rosaline's (Kaitlyn Dever) perspective as she complains to her boyfriend Romeo (Kyle Allen) about romancing Rosaline's cousin Juliet (Isabela Merced).
Rosaline | Official Trailer | Hulu
The trailer follows the same plot beats as the original narrative, but viewers are given more access to an outsider's viewpoint this time. It also demonstrates how, despite the fact that the production and set design will transport viewers right to the period of the drama, the language remains contemporary.
"Rosaline" Details and Other Things You Need to Know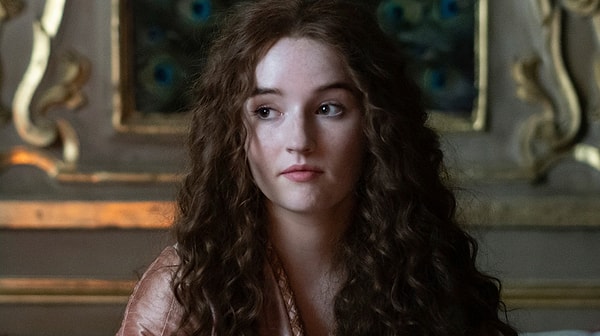 Rosaline centers on the title character, a young woman who, prior to meeting Juliet, was Romeo's most recent love interest. Rosaline is desperate to undermine the new couple's relationship and win Romeo back before it's too late after learning about Juliet, which has left her heartbroken. 
In addition to this overarching theme, the film twists the original tale by having Rosaline yearn for Romeo, when in the play, it is Romeo who experiences unrequited love that ultimately leads him to Juliet.
The Rebecca Serle book When You Were Mine served as the inspiration for the film. The film's screenplay was written by Scott Neustadter and Michael H. Weber, and it was directed by Karen Maine (HBO Max's Starstruck). Executive producers included Dever, Neustadter, Weber, and Emily Morris. Dan Cohen, Dan Levine, and Shawn Levy produced.
Bradley Whitford, Minnie Driver, Christopher McDonald, Sean Teale, Nico Hiraga, Henry Hunter Hall, and Alhaji Fofana are included in the supporting cast.
Additional Images from "Rosaline"
Images from Hulu's upcoming original movie Rosaline transport us to the period of Romeo & Juliet where we meet Rosaline Capulet, Romeo's betrayed girlfriend. 
The first picture of Kaitlyn Dever as the frequently overlooked lead love interest in William Shakespeare's classic tragedy surfaced back in November, but fresh images provide a better view of the actress dressed in gorgeous period garb among other cast members.
Other Shows to Look Forward in Hulu This October
Schitt's Creek (October 3)
After years on Netflix, the sitcom that had its name mentioned often during the 2020 Emmys will now be a Hulu exclusive. Schitt's Creek, which was broadcast on CBS and Pop TV from 2015 to 2020 and is the closest thing to a warm blanket on television, follows the Rose family as their enormous fortune begins to diminish and they are compelled to move to the sleepy Ontario village of Schitt's Creek.
Hellraiser (October 7)
The 1987 horror classic Hellraiser is 'reimagined' for a modern audience. It's the Hellraiser series by Clive Barker, which centers on the Cenobites, a gang of cruel otherworldly creatures from another dimension led by Pinhead. The plot is reminiscent of the original movie: When a woman fiddles with a sinister puzzle box, she calls upon Pinhead and his gang, and things get violent. Jamie Clayton from Sense 8 will play this Pinhead in a creative variation on the classic.
Grimcutty (October 10)
This new horror film from Hulu's Halloween series transforms a familiar concept—parents don't get memes—into something horrific. Yes, you did read that right. After a Grimcutty internet challenge raises concerns among parents because it encourages children to harm themselves, Grimcutty transforms into a monster and really begins injuring children. The monster goes on a murdering spree since the parents, who are obviously ignorant, don't comprehend it.
Matriarch (October 21)
In time for Halloween, another Hulu original horror movie. A woman who overdosed goes home to a little English village to be cared for by her mother, but she soon realizes that neither she nor the town appear quite right.
Scroll Down for Comments and Reactions