News
Review of 'Endgame' Season 1 Episode 8
Review of 'Endgame' Season 1 Episode 8
The saga continues as new episodes of the drama series Endgame continue to unfold every Monday on NBC. The show's eighth episode, 'All That Glitters', aired last night, reflecting on Elena's latest target that sheds light on her long-awaited endgame. 
If you missed last night's instalment, here's a brief of what went down.
What to Expect from 'Endgame' Episode 8
A flashback shows Elena reading a bedtime story to her daughter and explaining the meaning of the term prisoner. Meanwhile, Sergey interrogates and tortures a member of Belaks about the whereabouts of some missing gold. Sergey then leaves the captive tied up and goes for dinner.
The prisoner tries to break free when everyone goes to bed. Upon hearing commotion, Sergey goes downstairs, joined by Elena's daughter and Sofiya. The prisoner tries to harm Sofiya, but Elena shoots him in the neck and kills him. Elena suggests that Sofiya goes into hiding at their cousin's in New York.
Later that night, as they drop off Sofiya, Elena gets emotional as she hugs her daughter. She's leaving for 18 months and finds it hard to be away from her daughter that long. Elena tells Sergey that the 6000 tons of gold stashed in New York is costing their family.
Enough said before we spoil everything! You can stream last night's episode along with previous ones on Hulu and get to know how the story unfolds.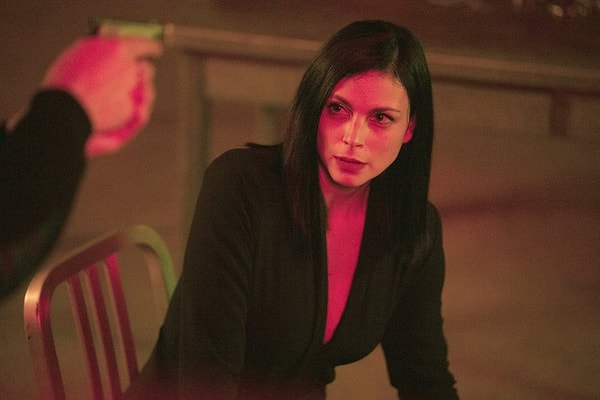 Cast
Continuing to serve as the series' cast members, Morena Baccarin plays Elena Federova, Costa Ronin plays Sergey Vodianov, Ryan Michelle Bathé as Val Turner, Jordan Johnson-Hinds as FBI Agent Anthony Flowers, Kamal Angelo Bolden as Owen Turner and Noah Bean as Patrick Doak.
The guest stars featured in the episode include Paisley Day Herrera as Sofiya, Boris Granolic as Vitaly Belok, John Palumbo as Fireman Dave and Keith Nobbs as Serial Skeptic.
Here's What To Expect in Episode 9
Stay in the mix as Endgame season 1 episode 9, 'Beauty and the Beast', airs next Monday, April 25, on NBC. A surprising unravelling will shake the country, including Val's perception of her job and the country.
Scroll Down for Comments and Reactions