News
Reboots, Remakes, Prequels, and Sequels: How Hollywood is Reviving the Classics
Reboots, Remakes, Prequels, and Sequels: How Hollywood is Reviving the Classics
Investors aren't exactly known for taking risks, and Hollywood is no different. Earlier this year, when Netflix announced a sharp drop in subscribers, the world of streaming--and the industry as a whole--took note. If it could happen to them, it could happen to the rest. 
There was widespread panic. The unrivaled growth that audiences had come to depend on seemed to be coming to an end. But not everyone cut back. Some preferred to calculate their investments, leaning on old classics, titles sure to attract a massive following. It's a smart move, one that streamers had long relied on. 
Disney has their Star Wars fetish. HBO has a massive list of planned Game of Thrones spin-offs, and studios everywhere are preparing to revitalize old franchises--classics we would kill to see onscreen again. It's hard not to get excited, and it's somewhat admirable to see Hollywood finding new ways to keep us anxious and waiting, ready to delve into the next big thing, even during times of austerity. They know what they're doing. Let's hope that talent carries over into the execution. They're trampling on sacred ground now. There are some things they simply cannot screw up.
Anne Rice's Interview with the Vampire
Platform: AMC, AMC+
US Release Date: October 2, 2022
It's no secret that Anne Rice was quite the character. She had a lot to say about the film rendition of her bestselling book, and she was particularly unhappy with the fact that Tom Cruise was going to play Lestat. So it's no wonder that they waited until she passed away to make this new remake. Considering what they did with it, it's safe to say that she's rolling in her grave. 
The TV series has completely switched up the timeline, the aesthetic, and presumably the storyline as well. The original novel follows Louis de Pointe du Lac, a Louisiana plantation owner who is transformed into a vampire in 1791 by the villainous Lestat. It's about shame, grief, and the desire to move past the nature of one's self. 
The series begins in 1910. Louis is a New Orleans gangster who accepts Lestat's dark gift because, as a black man, he desperately needs to move past the racial sentiments of his time. It's a complete juxtaposition that is sure to erase much of the source material. Whether or not it will work remains to be seen. But it does seem compelling.
Untitled Exorcist Sequel
Platform: TBD
US Release Date: October 13, 2023
There has been a lot of buzz about the new Exorcist film. At first it was thought to be a remake, hoping to capture all of the old heresy that made it a pop culture sensation. But we've since learned that the film will be a standalone sequel, meant to fit well with the other chapters in the franchise. 
The movie will follow a father who is desperate to save his daughter who has been possessed by the demon Pazuzu. What makes the film unique is its casting choices. For the first time since the franchise began, the film will feature Ellen Burstyn, who played the mother of Regan, the original possessed child.
For years she refused to return, rejecting multiple offers. It wasn't until the studio agreed to pay her an exorbitant amount of money AND establish a tuition fund in her name that she was willing to make an appearance. She said she felt like she was making a deal with the devil. This is the woman who played the grandmother in Flowers in the Attic, the worst villain in Hollywood, but she wouldn't come back and do The Exorcist. The film will also feature Ann Dowd, an exciting addition considering her stellar performance as Aunt Lydia in 'The Handmaid's Tale.'
It will be released on Friday the 13th of October of next year.
Matilda The Musical
Platform: Netflix
US Release Date: December 9, 2022
It's almost impossible to hate Matilda, Roald Dahl's masterpiece about a telekinetic prodigy who rebels by reading books and playing pranks on her crooked parents. Her school's principal, The Trunchbull, is kind of person kids love to hate--deliciously so, and Matilda's with her is probably one of the most satisfying moments in a children's film.  
There are those of us who would watching anything with Matilda's name on it, even a musical. And judging from the trailer this isn't some cheap, money-grabbing remake. They worked hard. Look at the way they dance! 
It'll be amazing to see an almost unrecognizable Emma Thompson as the Trunchbull, a role once occupied onstage by Ralph Fiennes in drag. The actress playing Matilda, Alisha Weir, will probably never outdo the darling Mara Wilson from the 1996 film, but she closely resembles the illustrations in Dahl's books, and she has a feisty, almost devious way about her. It will be interesting to see what she brings to the role. 
Yes, it is a musical, and that might turn audience members off, but it's Matilda. We're inevitably going to watch it, and we're probably going to love it.
Platform: Disney
US Release Date: May 26, 2023
When the trailer for Disney's The Little Mermaid premiered it received 1.5 million dislikes in 48 hours, and we all know why. The new mermaid looks nothing like Ariel, and frankly some audience members are tired of seeing racial casting changes. Many see it as cheap marketing, but it's hard to ignore the images of excited children who are so happy to see an Ariel that looks like them. Truth is, it doesn't really matter. What matters is the execution. So far most live-action Disney remakes have followed their cartoon counterparts to the letter, and The Little Mermaid doesn't appear to be any different. It'll be interesting to see if they can bring something new to the screen. It's going to take more than a frame-by-frame take to satisfy this audience. Perhaps Melissa McCarthy's performance as Ursula will do the trick. She's an amazing actress.
Peter Pan & Wendy
Platform: Disney
Release Date: 2023There have been many new takes on Peter Pan over the years, from Disney's musical to Robin William's Hook, an instant classic. But we have yet to see Disney take on a real, compelling live-action remake of the film. That will finally be happening in 2023, and we can't wait to see what it looks like. There's a lot of information that hasn't been released yet, but we do know that Jude Law will be playing Hook. Ever Gabo Anderson will be playing Wendy, and Alexander Molony will be playing Peter Pan.
Our Time
Platform: Netflix
Release Date: TBD
Few films have made a cultural impact quite like The Goonies. When it was released, children from the American state of Oregon saw their beloved landmarks associated with real-life legends of buried treasure. They scoured the coast in search of artifacts, forming Goonies gangs. Just this year, one of those children--now a grownup fisherman--was able to discover pieces of the hull of the ship that the film was based on. Now the franchise is facing a long-awaited reboot, meant to capture the same magic that inspired those children to believe that the impossible was possible. 
The new Netflix series will be called Our Time, based on a speech given in the film. It will follow a group of kids as they try to retrace the steps of the original Goonies gang and the treasure they find in the process. The idea was inspired by another group of kids who were trying to make a shot-by-shot remake of the Raiders of the Lost Ark, an idea that infuriated the studio. 
Not much else is known about the series, just that production will begin soon. It's sure to be interesting. Hopefully there will be Cameos from the former cast members. They still have a strong following in Oregon, where the movie has its own festival, and The Goonies house is part of a landmark tour of filming locations. If you're ever in Astoria Oregon, give it a look.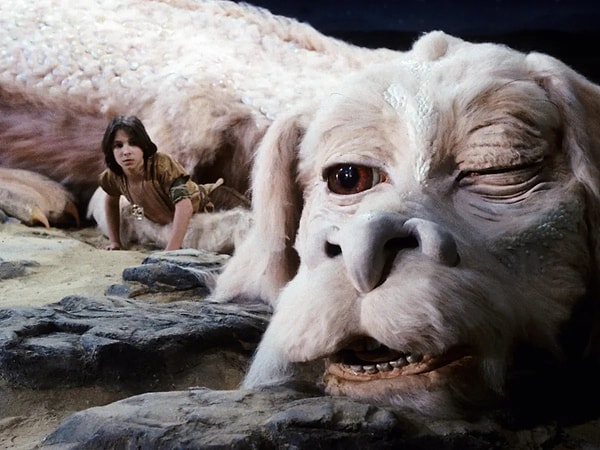 Neverending Story
Over the past few days, fans have been going wild over a new movie poster for The Neverending Story that made its way online. It was modeled after posters from the D23 conference, where Disney has been announcing its upcoming films and series. First, no, Disney is not making a version of the Neverending Story. They don't even own the rights to it. But that's not all. 
There have been quiet rumors about a bidding war going on between various companies. They know that the franchise could blow up the small screen with killer CGI and a series of plot twists that would make most children's fantasies look like cave paintings. 
There is nothing like The Neverending Story out there. It has a vast, untouched universe, mind-blowing imagery, and characters that we could love. The films didn't even come close to doing the franchise justice. There was so much more to be seen. The sheer potential is enough to mesmerize fans, and they have been talking. 
The second the Disney poster came out, social media had a hissy fit. People were sharing it, begging for more. We all know this is going to be huge. Let's hope somebody wins that bidding war soon because we could be looking at the next big thing.
Scroll Down for Comments and Reactions