Who is Post Malone's Girlfriend? Is He Dating Anyone in 2022?
News
>
Who is Post Malone's Girlfriend? Is He Dating Anyone in 2022?
Austin Richard Post, professionally known as Post Malone, is a well-known composer, music producer, and hip-hop artist. He received 10 Billboard Music Awards, MTV Video Music Awards, and three American Music Awards. His private life has often been the focus of rumors from people eager to learn more about the woman he is dating.
In May 2022, Post Malone unexpectedly disclosed to TMZ that he would become a father. He and his girlfriend were expecting. According to Post Malone, 'I'm excited for this next chapter in my life; I'm the happiest I've ever been, and for since I could remember, I was sad.' He added, 'Time to take care of my body and my family and friends, and spread as much love as we can every day.'
His Private Life
Supporters had been claiming that he was privately engaged, which turned out to be the case. He and his unnamed fiancée finally welcomed their first child midway through June. Her current fiancé avoids the spotlight. Post Malone and his partner allegedly celebrated with relatives and friends in Southern California to announce their pregnancy.
Even though there isn't much information available about Post Malone's longtime girlfriend, fans want to see more of her in the future. People hope that her fiancé will show up pretty soon. She has never been one to seek publicity, and she and her boyfriend have been pleased to develop their relationship in private before starting a family.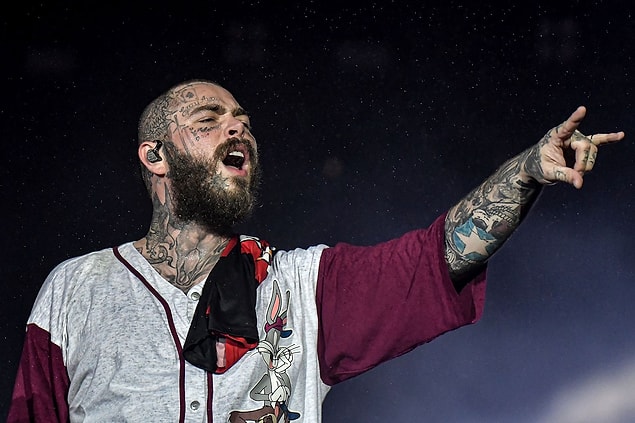 Who is Post Malone's Girlfriend?
Despite his fame, Post Malone's relationship maintained a secret. Little is known about the singer's engagement with his girlfriend because he seldom speaks about her. Her identity is unclear since he doesn't share photos of her on social media.
In January 2021, Post Malone was sighted with an unknown woman. According to rumors, He is engaged to his long-term partner, Jamie. In October 2021, she took pictures with him and his family. Posty was at his cousin's wedding together with Jamie and his family. It hasn't been established whether this is her actual name, though. Many claim Jamie, but there is no evidence for such.
Their relationship has been growing behind closed doors. Since 2020, Post Malone has frequently been spotted with an unnamed woman. Although the musician's admirers often post her photos, she has never been identified. According to fans, the deactivation of Jamie's social media accounts is likely an effort to shield her from prying eyes while she is allegedly expecting a child.
Post Malone's Dating History
Post Malone may have chosen to keep his present engagement more personal because his past partnerships were well-known. Post Malone is just 26 years old, so he still has a lot of life to live. Evidently, he wants his life to be rich in his personal and professional accomplishments. For a celebrity, privacy may be hard to come by, so it seems sensible that they would want to guard it vigorously.
Below is the list of women dated by Post Malone:
• MLMA – Me Love Me A Lot
Early in 2020, when the Korean singer and visual artist MLMA shared a few TikToks with Post Malone, the two were first rumored to be dating. The South Korean-born celebrity, whose actual name is Baeck Ye-jin, posted a video with the phrase 'He is so cute.' Post Malone was playing banjo in the video. Another clip posted by MLMA depicts the two cuddling in the studio. MLMA subtly acknowledged the rumors after publishing further photographs of Post Malone in August 2020, even though the couple never publicly confirmed their relationship. After being linked in 2020, Post Malone no longer sees Korean singer and visual artist MLMA.
• Kano Shimpo
Post Malone dated model Kano Shimpo for three months from August to November this year. Kano Shimpo is a famous model. About their relationship, though, not much is revealed. They did a great job of keeping it a secret.
• Ashlen Diaz
In 2015, Post Malone and Ashlen Diaz started dating. Throughout Post's debut performance on The Breakfast Club, the two made their relationship public. Post Malone claims it was love at first sight when the couple first met. After three years together, the couple separated in 2018, yet the cause of the breakup is still undisclosed. Ashlen Diaz, whom Post dated for three years until their split, was his longest and most publicized relationship.
On June 13, while being interviewed on Sirius XM's Howard Stern Show, Post Malone confirmed the arrival of his daughter and his engagement. He claimed, 'I got up at 2:30 in the afternoon, I went and kissed my baby girl,' he was referring to his daughter, as he clarified. The couple intended to keep the information private, and her fiancée could make her personal decisions.