News
Peacock Acquires the First Season of 'The End is Nye'
Peacock Acquires the First Season of 'The End is Nye'
Bill Nye, the Science Guy, is back with another piece, The End is Nye, scheduled to launch later this month on Peacock. 
The unscripted series follows Bill Nye as he navigates through the world's most severe catastrophes, including natural and artificial ones.
More About The Show
Nye has inspired several shows in the 90s, like Bill Nye the Science Guy, making him a renowned inventor, author, engineer, educator, and environmentalist. 
"Currently, our planet is a terrifying place to be, yet packed with opportunities to improve everything for our benefit. The core idea behind The End is Nye is for us humans to manage our fate for the first time in history."
"We can witness the potential for these devastating catastrophes and have ways to evade them. With science, we can finally change the planet," Bill Nye elaborated in a statement from Peacock.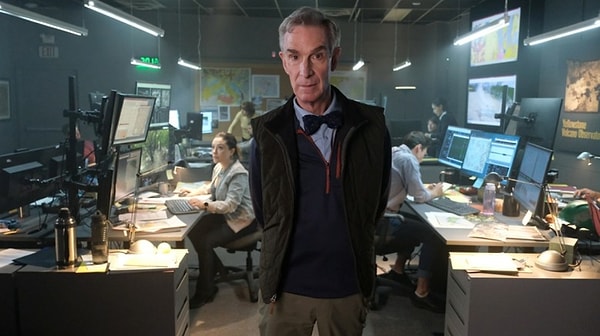 'The End is Nye' Plot
From asteroids to viruses and tornadoes, The End is Nye showcases Nye's navigation through the riskiest outlook of each calamity and then keenly analyses the science behind the different disasters. Each episode displays other survival tactics and how they can be evaded with the viewers' help. 
The trailer from Peacock's main YouTube Channel kicks off with Nye welcoming and introducing viewers to The Disaster Institute of The End is Nye while giving them a sip of Bill's experience with six different disastrous events, all to teach us how to save the world with science.
Who are the Series' Creators?
The End is Nye is written, created, direct, and chiefly produced by Bill Nye, Brannon Braga, Erica Huggins, and Seth MacFarlane. The series is a Fuzzy Door, UCP, a branch of Universal Studio Group, and Universal Television Alternative Studio co-production. 
Braga explained in a statement, "The series is a relationship film; it's about our connection to nature and how it can end in an extreme calamity. It also tells how science can help us survive these calamities. Our show is scary, but we aim to enhance human confidence with an optimistic perspective of scientific understanding and the future."
'The End of Nye' Debut Date
The End is Nye launches on Thursday, August 25th, exclusively on Peacock, with six amazing episodes. 
Fans can catch the series' official trailer on the streamer's main YouTube Channel for more descriptions. Bill needs you on this journey!
Scroll Down for Comments and Reactions