News
Netflix's 'Sky Rojo' Gets Third Season Premiere Date
Netflix's 'Sky Rojo' Gets Third Season Premiere Date
If you love your Black comedy shows blended with a touch of crime drama and action thriller, then Netflix's Sky Rojo is your project. Netflix recently announced the show's third season after acquiring the previous two seasons at once.
Sky Rojo landed on Netflix in March 2021 for the first eight-episode season, followed by the second in July. Netflix renewed the show for the third and last season and provided it with a January 2023 premiere date. 
Sky Rojo's incredible scores of 6.5/10 stars on IMDb and 92% average Tomatometer (accompanied by a 70% average audience score) must have triggered its streamer to renew it for season three amidst the massive cancellation of shows.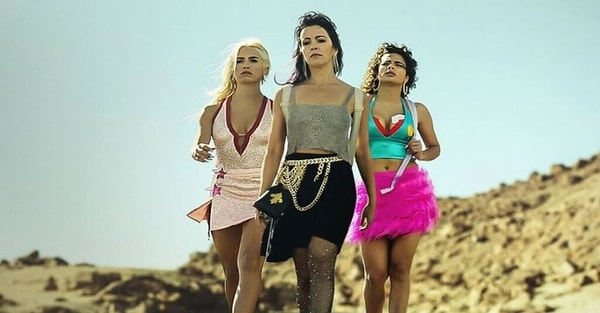 What's the Storyline for 'Sky Rojo' Season Three?
Netflix's Sky Rojo follows three prostitutes, Gina, Wendy, and Coral, who are under chase by Romeo, their procurer, and his men after escaping. 
The trio's escape journey is not easy, as they encounter all sorts of life-threatening risks. However, their challenges come with a silver lining since their union has grown better and stronger. Besides every misfortune, Gina, Wendy, and Coral learn that unity is strength. 
Sky Rojo season two had a lot of twists that left the show's fans on a cliffhanger, yearning for more. The upcoming season, being the last comes with more details connecting from where its pacesetters left off.
Has Netflix Unveiled the Official Trailer for 'Sky Rojo' Season Three?
Yes! It's just a day since Netflix dropped the official trailer for Sky Rojo season three on its leading YouTube Channel. 
The trailer lasts 2 minutes and 1 second, illustrating what the trio will be up to on the final lap.
Who Created 'Sky Rojo'?
Sky Rojo is created by Álex Pina and Esther M. Lobato, with directors Eduardo C-Jackson, Javier Quintas, Albert Pintó, David Victori, Óscar Pedraza, and Jesús Colmenar. 
Pina, Lobato, and Colmenar are the show's chief producers, with Cristina L. Ferraz as the producer. Sky Rojo is a production of Vancouver Media.
Who Portrays Who in 'Sky Rojo' Season Three?
The third season welcomes back several actors from seasons one and two, including the central triad, Coral (Verónica Sánchez), Wendy(Lali Espósito), and Gina (Yany Prado). 
Other characters are Enric Auquer (Christian), Asier Etxeandia (Romeo), and Miguel Á. Silvestre (Moisés).
When Will 'Sky Rojo' Season Three Premiere?
Season three of Sky Rojo will launch on Friday, January 13, 2023, with eight episodes running between 22 and 31 minutes.
Scroll Down for Comments and Reactions