Netflix's 'Black Crab' Release Date, Cast, Plot, and what we know so far…
News
>
Netflix's 'Black Crab' Release Date, Cast, Plot, and what we know so far…
Noomi Rapace headlines this Swedish sci-fi action thriller set in a post-apocalyptic world, which follows six soldiers sent on a covert mission to transport a mysterious package across a frozen archipelago without knowing what dangers lie ahead or who they can trust.
'Black Crab' Release Date
'Black Crab' was originally announced back in 2020, with Deadline reporting that it would be going into production in Sweden in 2021. Now, over a year and a half later, 'Black Crab' has a release date. Fans can tune into the apocalyptic Netflix drama when the film starts streaming on March 18, 2022.
'Black Crab' Trailer
Netflix has unveiled the trailer for the return of 'Black Crab'. Rapace and her team are seen on the frozen archipelago as they begin operation Black Crab, which she refers to as a 'suicide mission' in the trailer. And we see a sequence of darker images showing the squad preparing to travel across the archipelago to deliver a parcel in order to put an end to the battle they're in.
BLACK CRAB | Official Trailer | Netflix
'Black Crab' Plot Summary
The Swedish action thriller Black Crab is set in a post-apocalyptic planet ripped apart by war. Six soldiers embark on a covert operation across a frozen archipelago during a long, brutal winter, risking their lives to convey a mystery gift that could end the conflict.
They have no idea what dangers await them as they enter hostile enemy territory, or who — if anyone — they can trust. Caroline Edh, a speed skater turned soldier, sees the task as something altogether else.
Black Crab, starring Noomi Rapace and directed by Adam Berg, follows six soldiers on a desperate journey to end a conflict that has ravaged their lives.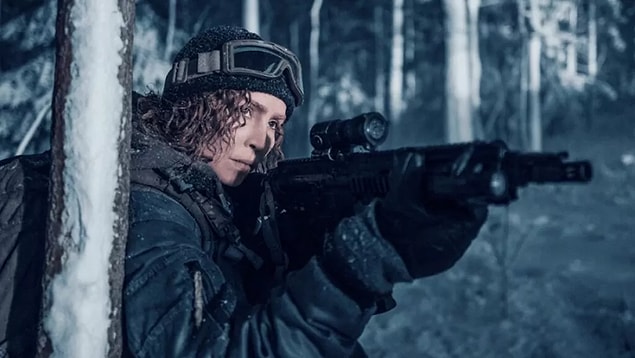 'Black Crab' Cast Members and People Behind
Noomi Repace heads the cast. Alongside her is Jakob Oftebro, Erik Enge, Dar Salim, Ardalan Esmaili, Aliette Opheim, and David Dencik. 
Malin Idevall and Mattias Montero are producing the film with Rapace, Christopher Granier-Deferre, Berg, Emil Wiklund, and Kim Magnusson serving as executive producers. Black Crab was written by Berg and Pelle Rådström and it's based on the novel of the same name from Jerker Virdborg.
Are you looking forward to the release of 'Black Crab' on Netflix on March 18, 2022? Let us know your thoughts in the comments below.