Netflix's Adult Animated Sitcom 'Paradise PD' Returns for Season Four: Find Out Debut Date
News
>
Netflix's Adult Animated Sitcom 'Paradise PD' Returns for Season Four: Find Out Debut Date
It's been a series of chaos since Netflix launched the first season of Paradise PD, an animated adult crime situation comedy. Paradise PD landed on Netflix in August 2018 for the first season, followed by seasons two and three in March 2020 and 2021, respectively. 
Waco O'Guin and Roger Black's Paradise PD has managed a score of 6.8 out of 10 stars over the past three seasons on IMDb, a 58% audience score on Rotten Tomatoes, supported by a 40% Tomatometer, and 3.5/10 stars on Ready Steady Cut. 
Paradise PD received its fourth season's renewal in June 2022, and it's scheduled to launch in mid-December.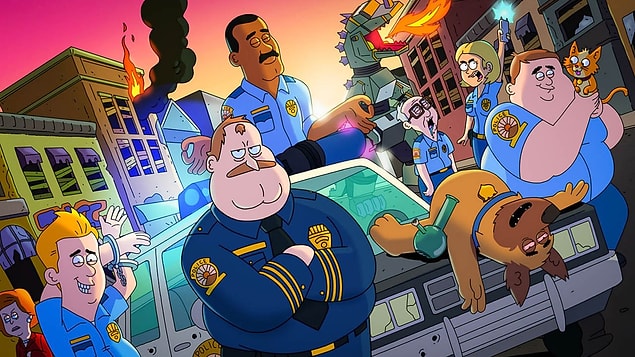 What's the Plot for 'Paradise PD' Season Four?
Paradise PD revolves around a small town with an incompetent and rampant police department. The fourth season returns for crimes, law enforcement, and scenes to crack our ribs. 
Paradise PD's cops are probably the worst responders to crime for how cool they always appear when things are burning down. The upcoming season will also answer various events that its predecessor left pending.
What's in the Trailer for 'Paradise PD' Season Four?
A week ago, Netflix uploaded the official trailer for Paradise PD season four to offer more storylines about the upcoming installment. The cops appear to have become more incompetent as the town, which was just reconstructed, gets destroyed under their watch. 
Everything is messy, from the PDs losing their jobs and crazy parties to wild cocaine consumption and more comedy.
Who Produced 'Paradise PD'?
Paradise PD is created by Roger Black and Waco G'Guin, alongside Alejandro Valencia, Rene G. Aldape, Tomas Jacobi, and Nicolas Barry as the composers. 
Black and O'Guine chiefly produce the show with Marc Provissiero and Joel Kuwahara, while the show producers are Seth Cohen, Amy Pocha, Jeremy Sosenko, and Rocky Russo. 
Paradise PD is a co-project of Odenkirk Provissiero Entertainment, Bento Box Entertainment, and Damn! Show Productions.
Who Plays Who in 'Paradise PD' Season Four?
The upcoming season contains Sarah Chalke voicing Gina Jabowski, Dana Synder voicing Dusty Marlow, Kyle Kinane, David Herman voicing Kevin Crawford, Cedric Yarbrough voicing Gerald Fitzgerald, and Tom Kenny voicing Chief Randall Crawford.
When is 'Paradise PD' Season Four Coming Out?
Season four of Paradise PD lands on Friday, December 16th 2022, with thirteen episodes running for 23 to 30 minutes.