News
Mr Beast Net Worth: How Rich is The Infamous YouTuber?
Mr Beast Net Worth: How Rich is The Infamous YouTuber?
YouTube, nowadays, is one of the most used social media applications. The app has become entertaining to a lot of people and has already gathered a massive number of users. Some users of these applications are known as influencers who create content to gather views. This view helps the influencers gather profit to finance their videos for their next content.
By having a constant intensity on their YouTube channel, they can gather loyal viewers who will follow their journey as a vlogger. Mr. Beast on this platform was undeniably popular for his extreme challenges and a massive amount of prize money. Let's take a look at the wealth of one of YouTube's most subscribed channels.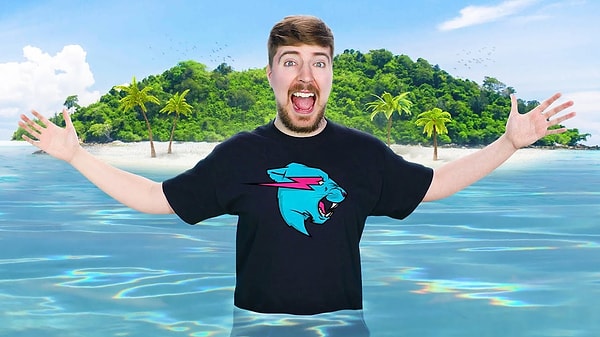 Mr Beast's Life Before YouTube
Jimmy Donaldson, also known as 'Mr. Beast,' was born on May 7, 1998. He grew up in a religious family of Roman Catholics. He has an elder brother, Charles 'C.J.' Donaldson. They live in eastern North Carolina in the city of Greenville. Jimmy graduated from the private school, Greenville Christian Academy. According to an interview, he enrolled in college but didn't last 2 weeks on campus. He told his mother that he would do nothing else but YouTube. His mother supported his passion for the online entertainment industry because, according to Mr. Beast, her mother wanted nothing for him but success.
Before rising as a YouTube star by having crazy YouTube content, Mr. Beast once posted his YouTube videos on his own channel 'MrBeast6000'. In February 13-year-old old Jimmy first posted his video online. In his attempt to enter YouTube, he was experiencing difficulties mastering the YouTube algorithm. His first videos are of himself playing 'Minecraft' and 'Call of Duty' or estimating YouTubers' wealth. He also creates videos that give tips to aspiring creators.
In his early days as a YouTuber, he seldom appeared in his videos. Back in the year 2015-2With6, he was also known and slowly gaining followers for his content 'worst intros' by YouTubers.With this kind of co-intent, he gathered 30,000 subscribers.
Mr Beast's Rise on Youtube
Mr. Beast became well-known for his crazy videos after he posted a video of himself counting his channel's subscribers to 100,000.This video content took him 44 hours to finish and went viral. As a result, he finally mastered the YouTube algorithm and the system for gaining fame on this platform.He then gathered more viewers and subscribers through his YouTube content of spinning a fidget spinner for 24 hours. In November 2017, Mr. Beast reached his first 1 million subscribers on YouTube.
Fidget Spinner Vs Face (Legit Had To Get Stitches)
Currently, Jimmy Donaldson, also known as 'Mr. Beast,' has the most-viewed YouTube channel and is known as the highest-paid creator on YouTube due to his partnerships with big-name companies.
Mr. Beast's YouTube channel is the best in having amazing stunts and crazy content. Recently, he turned a backyard into a ball pit and is famous for his one-minute challenges. Giving away a million dollars to a stranger is what his fans love on his channel. His impossible challenges and money giveaways have helped him grow his channel to 53 million subscribers.
Mr Beast's Fame
With his team as his support system, he organized hour-long stunts for his friends and gave them a massive amount of prize money. His videos gathered a lot of followers for his extreme last person to leave challenges that offered a thousand dollars in prize money. These are some of the crazy challenges of Mr. Beast that gained millions of views on YouTube.
He put a 100 million orbeez in his friend's backyard and it gained 167 million views.

The first to push the red button full of bobby traps wins $100,000. That gathered 185 million views.

Mr. Beast got buried for 50 hours, which earned him 189 million views.

The hours' challenge in Solitary Confinement with 190 million views

A real-life Squid Game with 456 participants and 281 million views as of July 2022.
His channel was also known for supporting charities and helping those in need. By randomly giving people cash prizes for challenges, Mr. Beast indeed got his audience's attention and loyalty to the online platform. Mr. Beast started giving money to Uber drivers, food delivery drivers, and fast food employees. Jimmy saw the generosity he offered to his recipients as helping them a lot.
If You Can Carry $1,000,000 You Keep It!
Beast Philantrophy: Mr Beast's Way of Giving Back
With the advocacy of Mr. Beast and his goal of making the world a better world by helping those in need, Beast Philanthropy was created.
Beast Philanthropist aims to provide life-changing assistance and financial aid to individuals and families in need. Mr. Beast founded this kind of organization to use social media platforms as a way to approach problems in society. The influence and power of YouTubers and influencers can provide a big contribution when scouting companies that can donate and finance the organization's goal. With the support of followers and subscribers, Beast Philanthropy will slowly change the world.
Mr. Beast's Net Worth
Because of his undying fame and his title as the highest-paid creator on YouTube, a lot of his followers and subscribers are eager to know the net worth of Mr. Beast. If Mr. Beast was randomly giving people thousands of dollars, how rich is Mr. Beast at this point?
As of now, the YouTube star, Mr. Beast, has a total net worth of $56 Million. He also earned more than 3 million dollars in YouTube ads, and as a pioneer of YouTube stunts, he is one of the highest-paid YouTubers. With his influence, eagerness to help people, and popularity, he has received sponsorship from Microsoft and Electronic Arts.
Mr. Beast is also the owner of Mr. Beast Burger and Feasibles. He is a co-creator of organizations that aim to create a better environment and protect the nation. One of which is Team Trees and Team Seas. Mr. Beast is also a fundraiser for the Arbor Day Foundation, which has raised over $23 million, and the Ocean Conservancy and The Ocean Cleanup have raised over $30 million.
As an influencer and creator, Mr. Beast is indeed an inspiration for aspiring YouTubers to create vlogs that are not just aimed at entertainment but are also concerned with economic and environmental issues.
Scroll Down for Comments and Reactions