Man Behind the Mask: The Truth About Marshmello's Face and Identity
News
>
Man Behind the Mask: The Truth About Marshmello's Face and Identity
Marshemello is an American music producer and DJ. Known for global hits like 'Silence,' 'Wolves,' and 'Friends,' the true face of Marshmello remains a mystery due to the mask he always wears in public. His work is characterized by strong bass, synth, and groove to create electronic dance music. Interestingly, Marshmello has over 20M Followers on Instagram despite the mysterious character he has created for himself.
The Rise of Marshmello
Marshmello started his career by publishing song remixes online in 2015. The remixes got him some attention from the public. He released his first studio album, JoyTime, in January 2016, which featured the single 'Keep It, Mello.' He then released 'Alone' in May 2016 under Monstercat, a Canadian Record Label. 'Alone' became a certified platinum single in Canada and America, peaking at number 28 on the Billboard Hot 100 chart and selling over a million copies.
In 2017, Marshmello released the hit single 'Silence' with American artist Khalid, selling over 1 million copies in five countries. He further released three singles, 'Moving On,' 'Twinbow,' and 'Chasing Colours,' before dropping 'Silence.' Following up on the success of Silence, Marshmello collaborated with Selena Gomez to release the best-selling single, 'Wolves.' Going on a hit streak, he followed with 'Friends,' collaborating with British artist Anne-Marie in 2018.
Selena Gomez x Marshmello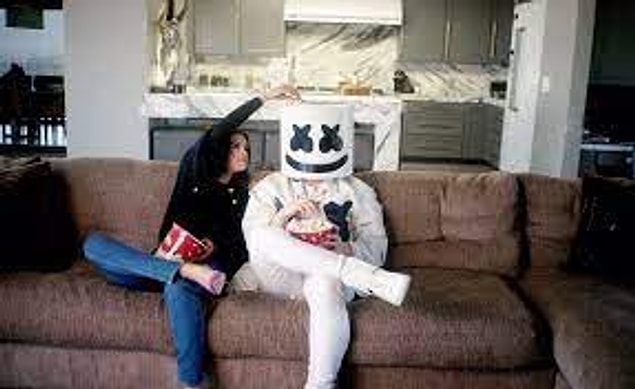 In August 2018, he also collaborated with the British Band Bastille to release 'Happier,' which became his most highly ranked song on the Billboard Top 100 charts. 'Happier' is currently the only song that has spent up to 69 weeks on the US Dance/Electronic Songs Chart. 
Despite remaining in the shadows, Mashmello earned about 40 million dollars in 2019, placing him at No.2 on the Forbes Highest Paid DJs list.
The Truth about Marshmello's Face and Identity
Although his face remained unmasked, there were rumors in 2016 that Mashmello was Chris Comstock, an American DJ whose stage name was Dotcom. In a prank attempted by Marshmello's DJ Friend, Tiësto, in 2015, Tiësto dressed up looking like Marshmello, wearing his signature helmet. He took off the helmet, and voila! The fans disappointedly saw Tiesto's face.
Marshmello and Tiesto TROLL EDC 2016
In another prank, at the iHeartRadio Awards in 2018, Canadian Singer Shawn Mendes pretended he was Marshmello.
Marshmello SHOCKS MMVAs crowd by REVEALING he is.....Shawn Mendes?!
Loyal fans and the media disregarded the events as publicity stunts.
In November 2017, an article was published by Forbes Magazine confirming Christopher Comstock as the man behind the Mashmello mask. The article proved his real name - Christopher - and revealed a music royalty document tied with Marshmello, which showed his name as Christopher. Forbes also discovered that Mashmello's company was registered in August 2015 in Christopher Comstock's name in Delaware. 
Furthermore, since Mashmello's popularity grew, fans observed that DotCom's new music productions had reduced drastically. Fans have attributed this decline to Chris not having time anymore. Industry insiders also revealed to Forbes that Chris and Marshmello are the same. Fans took previously-known evidence such as ASCAP credits and one time when Skrillex called Marshmello 'Chris' in a public interview into account to confirm Marshmello's identity.
Forbes reported that the signature Marshmello helmet weighs 8 pounds, costs $55,000, and has an internal air-conditioning system and programmable LED lights.
Marshmello has not denied or confirmed his identity, no matter how convinced the fans seem. In a statement on Twitter, he said: 'I don't take my helmet off because I don't want or need fame. I'm genuinely trying to create something positive for people to connect with... The helmet makes me Marshmello and also makes you Marshmello... We are all Marshmello.'