News
'Love Is Blind Japan Season Debut' Premiers On Netflix This February
'Love Is Blind Japan Season Debut' Premiers On Netflix This February
'Love Is Blind Japan' is a spin-off dating reality tv show with the same title. It is the newest installment in the franchise and will begin streaming on Netflix a few days from now.
'Love Is Blind Japan' Release Date
The 'Love Is Blind Japan' pilot series is set to premiere on February 8th on Netflix, a few days before Valentine's Day, and will be distributed worldwide. The first five episodes air today.
Love is Blind: Japan | Official Trailer | Netflix
'What Is 'Love Is Blind' All About?
The original series of  'Love Is Blind' was initially introduced to the United States and started streaming on the platform in early 2020.
'Love Is Blind' put several singles in the Atlanta, Georgia area in a home and had them speak to the opposite sex through these pods without ever seeing each other. If there was a connection between the couple, they would get engaged and finally meet for the first time.  Nick Lachey and Vanessa Lachey host the show.
The Japanese version is much like the North American one since it is a show about 'marriage-minded singles' who are considering meeting new people, dating, and hopefully, getting engaged by the end. What's more exciting to this Japanese adaptation of the show, as compared to the original series, the cast of 'Love Is Blind Japan' will get to plan their wedding day once they get engaged and will see if their emotional connection can turn into true love.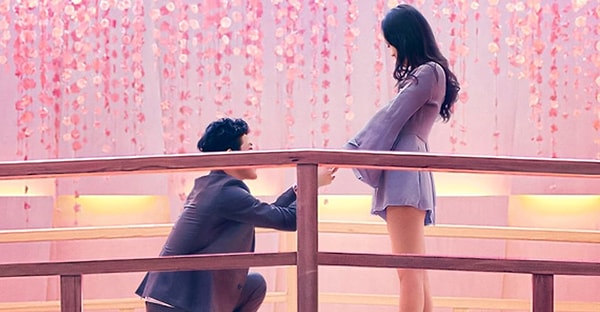 'Love Is Blind Japan' Trailer: Is It Airing Now?
The trailer for Love Is Blind Japan dropped late last month, presenting the singles and a sneak peek into what their journey on the show will look like.
Who Are The Cast and People Behind The Show?
Takashi Fujii and Yuka Itaya will be hosting the show while they help the singles navigate their love life in their little bubble away from the outside world.
Takashi is a Japanese actor, singer, and comedian who belongs to the popular Japanese entertainment group Yoshimoto Kogyo. Yuka is a Japanese actress who has been working in TV and film since 1999.
The singles looking for love on  'Love Is Blind Japan' have yet to be named.
'Love Is Blind Japan' is directed by Kazuki Ikeda. Akira Oshima, with Taro Goto, Mitsuko Kobayashi, and Yu Takemura working as the producers.
Scroll Down for Comments and Reactions