News
Japanese Manga Series 'Thermae Romae Novae' Premieres on Netflix This March
Japanese Manga Series 'Thermae Romae Novae' Premieres on Netflix This March
The anime will be based on Mari Yamazaki's popular Japanese manga and will serve as an adaptation and continuation of the original manga.
About 'Thermae Romae Novae'
Mari Yamazaki's manga series Thermae Romae is set in Japan. At the 14th Tezuka Osamu Cultural Prize, it won the third Manga Taish and the Short Story Award.
Yen Press has licensed the manga in North America. On April 28, 2012, Fuji TV released a live-action film adaptation of the novel. In 2014, a sequel, Thermae Romae II, was launched.
In January 2012, DLE Inc.'s anime television adaption aired on Fuji TV's Noitamina block in Japan. Discotek Media in North America and Siren Visual in Australia have both licensed the show.
NAZ has announced that Thermae Romae Novae, an original net animation (ONA) anime series, would launch on Netflix in March 2022.
'Thermae Romae Novae' Release Date
The series will be adapted into a new original net animation (ONA) anime adaptation by NAZ named 'Thermae Romae Novae,' which will appear on Netflix in 2022. Netflix confirmed in February 2022 that the series will release on March 28th, 2022.
'Thermae Romae Novae' Trailer
A trailer has dropped by the streaming giant and is already available on Youtube. You could also check it down here.
Thermae Romae Novae | Official Trailer | Netflix Anime
'Thermae Romae Novae' Synopsis
Lucius Modestus, an ancient Roman architect, is looking for work because he is having difficulty coming up with new ideas. His pals try taking him to a bathhouse to relax him as his manner and personality deteriorate.
Lucius drops his head in the water, unable to relax in the frantic and crowded bath. He discovers a secret tunnel that leads to a modern-day Japanese bathhouse, providing him with the inspiration he needed to create something fresh.
Lucius, armed with what appears to be knowledge far ahead of his time, does his best to duplicate his discoveries, which are usually of lesser quality due to his circumstances. However, his mere creativity may be enough to reclaim his image as an architect and earn the attention of the citizens.
The series is directed by Tetsuya Tatamitani and written by Yūichirō Momose.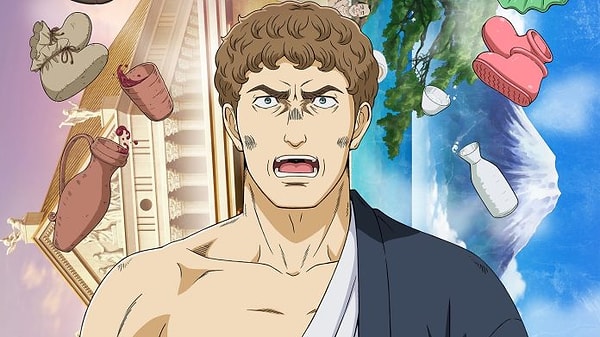 'Thermae Romae Novae' Cast
Lucius Modestus (Rushiusu Modesutusu)
Voiced by: Frogman, Kenjiro Tsuda (Japanese); David Wald (English)
A Roman thermae architect who ends up discovering modern Japanese baths, believing them to be the baths of 'flat-faced slaves'. He uses these ideas in his own work back home.
Marcus Pietras (Marukusu Pietrosu)
Voiced by: Hiroki Tōchi (Japanese); Christopher Guerrero (English)
Hadrianus (Hadorianusu)
Voiced by: Akio Ōtsuka (Japanese); Jim Foronda (English)
Emperor of the Roman Empire.
Lepidus (Repidusu)
Voiced by: Hiroshi Shirokuma (Japanese); R. Bruce Elliott (English)
Are you excited for this manga series 'Thermae Romae Novae' showing on Netflix on March 10, 2022? Let us know your thoughts in the comment section below.
Scroll Down for Comments and Reactions